Save Game Editor
V 1 mod for Farming Simulator 2013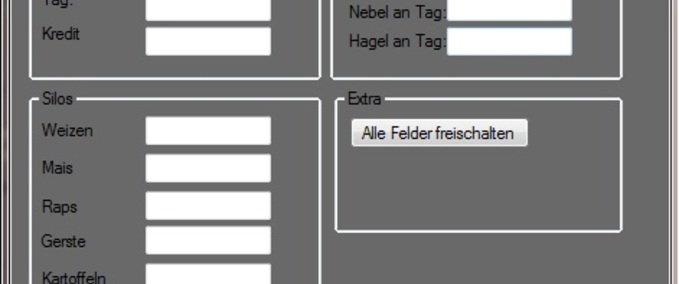 description
Screenshot: http://i49.tinypic.com/2daj0n5.jpg
Language: German
Version: 1.0
Options:
Money
Loan Amount
Day
Tanker stocks:
Wheat
Rape
Barley
Corn
Eggs
Potatoes
Beet
Hail
Rain
Fog
All vehicles refueling
Private:
Click save game store
Then click Documents, My Games (My Games), Farming Simulator 2013, spielstand careerSavegame.xml and select Open.
New values
Save
Ready
Important: The Net Framework 4 Requires!
Credits
KingClem
Files
Do you think this mod should be featured?
}