UFO Plus!
V 1.0 mod for OpenXcom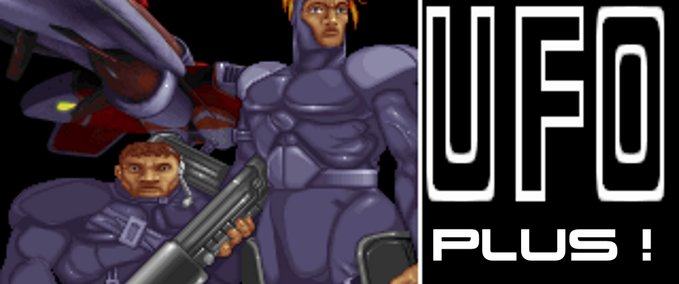 description
UFO Plus! Readme
Date: Dec 15th 2020
Version: 1.0
>>>>THIS MOD REQUIRES OPENXCOM EXTENDED 6.8.3 AT THE MINIMUM! IT WILL NOT WORK WITHOUT IT!<<<<
What is this mod?
UFO Plus is a mod that makes the following changes to just add a bit of...fun to UFO
This mod can imbalance the game depending on the choices you make usingit.
I do NOT recommend this mod for a first time playthrough of UFO.
Note: This mod does NOT add any new crafts, weapons, craft weapons, soldier types, armor types or aliens or maps
nor does it mess with alien mission deployments or anything of the sort
the only changes to the mod are below:
Changes:
All craft repair at a slightly faster rate then vanilla (+5 per hour)
You can conduct basic training to your men for 5000 credits that add +5 to all skills
(note due to how transformations work in oxce this can be just repeated as much as you want. I don't care have fun with it)
You can also resurrect lost soldiers for 500,000 thousand credits but this takes 24 hours and they need a 24 hour recovery time.
Engineer salary slightly reduced.
You now get a bonus depending on your performance during the month.
Countries that sign a pact with the invading Aliens can be brought back
into the fold if you destroy the alien base or bases built in that
country.
Less aliens will show up during a base defense mission if your defenses manage to do some damage.
Initial Starting funds is now about 7 million credits use it well.
Installation simply unzip the folder "UFOPLUS" to your user/mods directory, if you do not know where that is, either consult the openxcom forums or discord.
Recommended Mods to run with UFO Plus!:
Static Cydonia Map
Gun Melee
Improved Ground Tanks
Improved Heavy Laser
Pistol Auto Shot
Starting Defensive Base
or
Custom Initial Base set to YES in options.
In Options I suggest you set the explosion height to 3 as well
There will be a TFTD Plus! in the future as well!
Credits
changes
15 Dec 14:11

Version 1.0

Initial Release
images

Empfehlungsrate
-/-
noch nicht genug Stimmen
Do you think this mod should be featured?
}