Yogiport
V 19.13 (mp) mod for Farming Simulator 19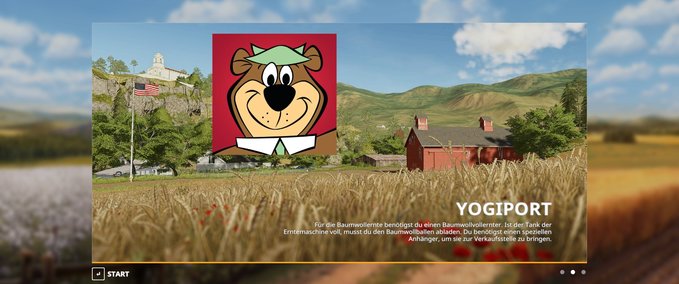 description
featured
Yogiport is a modified Ravenport map with generous open spaces for yard construction and modified buildings.
The rar file must be unpacked and contains mod files, all of which must be inserted into the mods folder, as there are other, modified buildings in addition to the map.
Under Videos you will find the map presentation in which the changes are presented:

The following fields have been merged: 1 + 2, 20 + 21, 24 + 25 + 26

Fields 12 + 13 cleared as open space for the yard and a grass meadow, terrain leveled

Additional trees planted for the timber industry in the northeast

Various modified buildings installed, functionalities see description in the shop or moddesc / xml in the building Mod

Start fields 6 + 7 reworked, field 6 empty and field 7 defined with harvest ripe wheat

Around the yard sown abundant grass for mowing

Price display for mixed ration, chopped meat, pig feed and digestate inserted

Card prepared for the special cutting units of the Krone Pack OY

Point of sale at the dairy for products that are nowhere or rarely accepted:
manure forage chaff silage straw grass_windrow dryGrass_windrow digestate liquidManure pigFood

All bushes and various decorative objects removed

Collisions on street signs removed, so that they can not fly around

Additional light in the BGA
Watch me on Twitch: https://www.twitch.tv/onkelyogi
Support: https://discord.gg/5tUqKkr
Credits
Modell: 
Textur: 
Script:
Idee / Konzept: onkelyogi
Tester:
Sonstige: 
changes
10 Jul 17:32

Version 19.13 (mp)

- Es muss KEIN neues Spiel begonnen werden mit einem savegame der Version 19.12
- Kapazität Eierkarton jetzt 1.000 statt 150 Eier
- Kapazität Wollpalette jetzt 10.000 statt 1.000 Liter
- Hirse Strohschwad korrigiert
- Diverse Partikel und Effekte (herbicide, tobacco, coleslaw) korrigiert
- Krautsalat pipe Effekt korrigiert
- Hofsilo Ladetrigger ergänzt wegen Herbizid etc. (Danke Stefan für bug report)
- Und wie immer: Eine Menge Kleinigkeiten gefixt die diese Auflistung sprengen würde ...

23 Jun 07:35

Version 19.12 (mp)

- Es muß kein neues Spiel von Version 19.11 begonnen werden. Diese 19.12 ist die finale Version von Yogiport
- Anhänger (bulk), Zuganhänger (trainwagon) und Überladewagen (augerwagon) laden nun alle Feststoffe dieser Karte
- Hofsilo akzeptiert nun alle Stoffe (auch Flüssigkeiten) dieser Karte
- Weitere Patch 1.40 Fixes, folgende Warnungen bleiben bestehen und müssen von Giants behandelt werden:
WARNING: performing emergency garbage collection pass (Andruck imho völliger Unfug, Giants findet es prima)
Warning (physics): Non-cpu collision mesh for 'horse_main_component1' is being cooked at runtime (Nur wenn man ein Pferd besitzt)
- Verkaufsstellen überarbeitet
- Planen und Effekte überarbeitet
- Und wie immer: Eine Menge Kleinigkeiten gefixt die diese Auflistung sprengen würde ...

16 Jun 23:09

Version 19.10 (mp)

- Neue Produktion Babynahrung: Aus Karotten wird 50% Karottensaft und 50% Häckselgut
- Neue Produktion Krautsalat: Aus 40% Weißkohl, 40% Rotkohl und 20% Zwiebeln wird Krautsalat
- Neue Produktion Segelfabrik: Aus Baumwolle wird 10% Segel
- Neue Produktion Zigarettenfabrik: Aus Tabak werden Zigaretten
- Neue Produktion Gewächshaus: Aus Mist oder Gülle und Wasser werden Tomaten
- Neue Produktion Weihrauch: Aus Pellets, 50% Tabak und 17% Hopfen wird Weihrauch
- Neue Produktion Ketchup: Aus Tomaten, 15% Zwiebeln und 10% Zucker wird Ketchup
- Spargel als zusätzliche Frucht eingebaut (Danke GMCW für Freigaben)
- Yogiquelle zum Weihwasser schöpfen zugefügt
- Neue Produkte den Verkaufsstellen zugefügt
- Neue Verkaufsstellen Surf Shop, Seagull Wharf und Abtei 'Holy Shit' zugefügt
- Die Bäckerei und Mehlfabrik sind in größere Gebäude (aus LS17 Sosnovka) umgezogen
- Einige Audiodateien meinen Produktions- und Verkaufsstellen zugefügt
- Misthaufenwände nochmals nachbearbeitet
- Einheitliche Ausrichtung der Pflanzlinien bei Kartoffeln und Zuckerrohr auf schrägen Feldern (z.B. Feld 5) korrigiert
- BGA Gärreste pipe effect zugefügt
- Kärcher versetzt
- Einige Gebäude-Spawnpunkte korrigiert
- Und wie immer: Eine Menge Kleinigkeiten gefixt die diese Auflistung sprengen würde ...

09 Jun 01:09

Version 19.9 [mp]

Neue Produktionen: Babynahrung, Bäckerei, Brauerei, Konditorei, Mehlfabrik, Pelletswerk, Sojamilchwerk,Zuckerfabrik

Neue Früchte: Roggen, Dinkel, Hopfen, Tabak, Karotten, Zwiebeln, Weißkohl, Rotkohl (Dank an GMCW für Freigaben)

Forgotten Plants Texturen verbaut (Dank an Eribus für Freigaben)

Diverse Anpassungen: Zuganhängerreihung, Hundehütte, Misthaufenwände, pda, Bodenmarkierungen, Produktionsrelationen (siehe info.txt)

Bitte Videos LetsPlay Yogiport #13 und #12 anschauen aufgrund der Menge der Neuerungen.

25 May 17:08

Version 19.8 [mp]

- Sämtliche derzeitigen Mods von Farmer_Schubi (Dank für Freigaben) verbaut, daher Doppelfuttersilo auf dem Hof entfernt:
- Dieselherstellung: Aus Raps wird 20% Diesel und 30% Schweinefutter
- Düngerherstellung: Aus Mist, Gülle oder Gärresten wird 20% Mineraldünger
- Flüssigdüngerherstellung: Aus Mineraldünger und Wasser wird Flüssigdünger
- Grastrocknung: Aus Gras wird Heu
- Kalkgewinnung: Aus Wasser wird 10% Kalk
- Mischfutterherstellung: Aus 25% Stroh, 25% Heu und 50% Silage wird Mischration (TMR)
- Saatgutherstellung: Aus 90% Weizen, Gerste oder Hafer und 10% Mineraldünger wird Saatgut
- Schweinefutterherstellung: Aus 50% Mais, 25% Weizen oder Gerste, 20% Raps, Sonnenblumen oder Sojabohnen und 5% Kartoffeln oder Zuckerrüben wird Schweinefutter
- Silageherstellung: Aus Häckselgut oder Gras wird Silage
- Alle Anlagen verarbeiten mit 1.000 Liter/Sekunde, haben ein Lager von je 10 Mio Liter, Abladegeschwindigkeit von 5.000 Liter/Sekunde und die Anzeige wird sekündlich aktualisiert.
- Feld 7 geändert, pda map aktualisiert
- Diesel zum Preistableau zugefügt
- Verkaufsstelle verlegt und Gebäude zugefügt, hier wird nun auch Diesel akzeptiert

13 Jan 06:35

Version Hotfix Verkaufsstelle 19.6.1

Verkaufsstelle Baumwolle fixed
Einfach im mods Ordner überschreiben, es muß KEIN neuer Spielstand begonnen werden.

09 Jan 07:37

Version 19.6 [mp]

- Doppelfahrsilos gewechselt auf eines für Schweinefutter und Mischration (Futtersilo), aufgrund der Nähe zur BGA ist ein
normales Silagesilo auf dem Hof nicht erforderlich (Fahrsilo und Heusilo zips können aus dem mods Ordner gelöscht werden)
- fieldDimensions fixed
- Verkausstelle akzeptiert nun auch Baumwolle
- parkedCars fixed
- easyShed03 paired fixed
- Straße am Feld 6 entfernt
- Grenzen der Graseinsaat fixed
- Pferdestall fixed (analog Hotfix)
- Kleinere bugfixes und Terrain Angleichungen
- LS19_FarmhausUS_OY ersetzt normales Farmhaus zwecks Veränderung spawnpoint nach Starten eines savegame

07 Jan 14:00

Version HOTFIX Pferdestall 19.6 [mp]

- Jetzt wird man gerittene Pferde auch wieder los und kann sie striegeln.
- Es muss lediglich die hier enthaltene LS19_Pferdestall_OY.zip im mods Ordner überschrieben werden.
- Es muss KEIN neues Spiel begonnen werden

05 Jan 12:48

Version 19.5 [mp]
images

Do you think this mod should be featured?