Claas Axion 800 Series (First Generation)
V 2.0 mod for Farming Simulator 19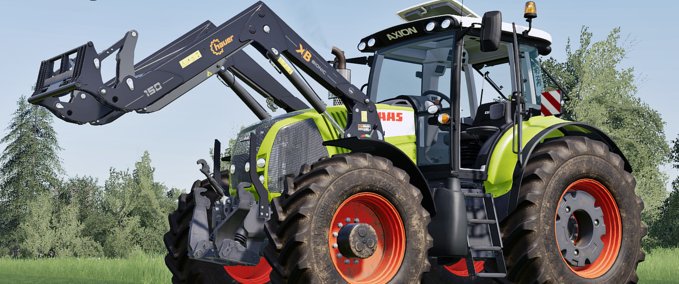 description
featured
Hello Farming Simulator Community!
I Want To Introduce You My Mod For FS 19, The Entire Family Of Claas Axion 800 Series (First Generation)
Have a nice game.
Claas Axion 800 Series [810,820,830,840,850] First Generation [Years 2006-2013]
Something about changes in the V2.0 version:
* Added opening doors
---> Left door [key N / J]
---> Rear window [M / K key]
---> roof window [key L Schift + N / J]
* Added license plate
* Added Michelin tires (2 types)
* FL console (for Hauer and Stoll)
* Added new worklights in the cabin
* New exhaust effects
* True engine power (based on Wikipedia)
Mod functions:
Real color textures
-Full washable
-Wearable
Configurations engine power
-Mobile front axle
Amortize seat
Exhaust configuration: Normal and Chrome
-Warning Sings configuration
-Dynamic hoses
Animation of gas and brake pedals
Headlights, turn signals, brake lights
Wheel configurations (normal, weight, width and twin wheels)
-Animated hydraulics
-Animationswischer
-Randfarbenkonfiguration
Speedometer and tachometer
Dust, tire marks
-Verschiebbarer front fender
-And other...
* Please keep only my download link and do not upload this mod on other hosts.
* Please respect my work and do not edit this version publicly!
* You can add mod in other forums, but copy the whole post!
Credits
Modell: Sotillo,TomasT150
Textur: Sotillo,TomasT150
In Game: TomasT150 
Waschbar: TomasT150
Tester: TomasT150
Sonstige: TomasT150
images
Do you think this mod should be featured?