CLAAS Lexion750
V 1.1 by R&A-Modding mod for Farming Simulator 2011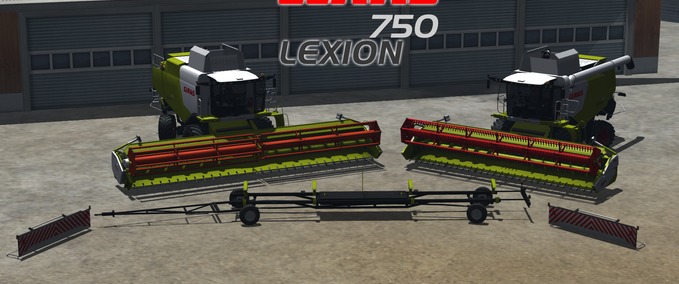 description
featured

Hallo LS-Freunde,
Hier haben wird für euch den CLAAS Lexion 750 Version 1.1 für euch.

Es wird empfohlen sich die PDF durchzulesen da die meisten Fragen beantwortet werden und dort auch die Tastenbelegungen mit beistehen!
Sollte in der PDF dennoch etwas nicht beschrieben sein, so schaut bitte vorerst noch in die Online FAQ bevor ihr eine E-Mail/PN schreibt.
Link zur Online FAQ: http://lexionfaq.ra-modding.de/


Daten:
Modelle: R&A-Modding (meistro, Repi, Alex2009, Kleener_Putzi, hehe93), BM-Modding
Texturen: Repi, Face, BlackJack
Coronatexturen: funker
Ingame, Animationen: Repi, Face, Mofa-Killer
Skripte: R&A-Modding(Alex2009,Repi), SFM-Modding, Knagsted, Sven777b, Patar, JohnDeere 6920, Hitman, gotchTOM, Mofa-Killer, BJR-Modding
Sounds: Sevorane

Changelog:
Version 1.1:
- Der Drescher kann nun unter MAC OS X dreschen.
- Rückfahrkamera für MAC OS X aufgrund eines Engine Bugs nun nicht mehr
- Nach dem Abtanken schaltet der Drescher nicht mehr von Schwas auf Häc
- Rückfahrkamera 3 und 4 nun auch im Singleplayer immer verfügbar.
- Texturen Gefixt und Angepasst.
- Logeintrag für die Abtankgeschwindigkeit im Script ausklammern.
- Spreu Verteiler nun leicht versetzt.
- Taste um zwischen Schwaden und Häckseln wird nun in der Hilfe angezeig
- Haspelanimation überarbeitet.
- Rundumleuchte schaltet nun beim Entladen über 80% wieder ab.
- Autopilot für Mais nun Deaktiviert.
- Helfer Eingefügt.
- Helfer und Autopilot schalten sich nach dem Abtanken nicht mehr ab.
- Hangausgleich der Schneidwerke überarbeitet.
- Mitspieler können nun den Hecktarzähler zurücksetzen.
- Menütexturen vom Autopilot sind nun im DDS Format.
- Green Star nun auch für den Beifahrer sichtbar.
- ProjectFix eingebaut.
- Motor und Dresch-Sound bleibt an wenn man den Drescher verlässt.
- Beifahrer Kamera zeigt nun beim Einsteigen nicht mehr nach hinten.

Polys:
CLAAS Lexion750: 67245
CLAAS Vario1050: 25799
CLAAS Vario900: 23392
CLAAS Conspeed: 12055
Transportschutz: 538
TAM Leguan: 6331

Lexion750:
- animierter Scheibenwischer
- animierte Tür, Leiter, Geländer, Spiegel, Lichter hinten, Lenkkonsolle
- animierter Korn tank, Radialverteiler
- animierte Schnecke im KorntankPipe
- animierte Rolle im Einzug (Schrägförderer) und am Radialverteiler
- Lightbar in abgewandelter Form in die CEMOS eingebaut
- animiertes Lenkgestänge
- animierter HubZylinder für Schrägförderer und am Radialverteiler
- Greenstarfunktion im Lexion (http://www.dob-landtechnik.de/Berich...r_Lightbar.htm)
- GreenStar nur aktiv wenn SW angekoppelt
- Auto Contour = Hangausgleich (links/rechts/hoch/runter)
- IC Script von SFM-Modding leicht umgescriptet und an den Lexion angepasst
- Lichter, Animationen, Motorstart und andere über IC steuerbar
- Beleuchtungv3.1.1 von Sven777b verbaut
- CAM über IC aktivierbar
- Indoor/Outdoorsound auch hörbar wenn Tür auf/zu geht
- uvm

CLAAS Varios:
- Haspel mit Maus steuerbar
- animierte Zapfwellen
- animierte LaserPiloten
- Haspel dreht langsam an beim einschalten und dreht aus beim abschalten
-uvm

Conspeed 8-75 FC:
- Animiertes dynamisches Einzugspartikelsystem
- Klappbar
- Animierte Einzugsketten
- Partikelsysteme mit Clipdistance

Tam Leguan Quattro Schneidwerkswagen:
- Fixierung des Schneidwerks durch Taste "X"
- Fixierung wird beim abkuppeln des Trailers automatisch gelöst
- Beleuchtungsscript v3.1.1

Es ist nicht erlaubt diesen Mod erneut Hochzuladen.
Do not upload this mod again.
Nie mozewgracten modponownie.

Installation
Das RAR-File entpacken und die ZIP-Datei in Euren Mods Ordner einfügen und im Shop erwerben!

MfG
Alex2009
Copyright (C) R&A-Modding (http://www.ra-modding.de), All Rights Reserved.
Credits
Siehe Beschreibung und Readme.
changes
05 Sep 21:42

Version 1.1 by R&A-Modding
Files
checksum:
c5617b865535861e5854f5e80508aafc
Version:
1.1 by R&A-Modding
multiplayer ready?
no
Author:
and#067;and#111;and#112;and#121;and#114;and#105;and#103;and#104;and#116;and#032;and#040;and#067;and#041;and#032;and#082;and#038;and#065;and#045;and#077;and#111;and#100;and#100;and#105;and#110;and#103;and#044;and#032;and#065;and#108;and#108;and#032;and#082
price in shop:
350000 LS
name in shop:
Claas Lexion 750
description in shop:
Modell: MRA-Modding
Texturen, Ingame, Animationen: Repi
Scripte: SFM-Modding, MRA-Modding (Alex2009 and Repi)

Powered by MRA-Modding !


Do you think this mod should be featured?