Freiensteinau
V 2.1.0 mod for Farming Simulator 17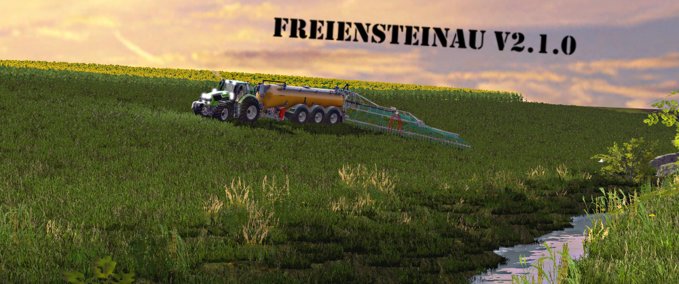 description
featured
Welcome to the beautiful Freiensteinau map
Here you will find a large yard with a grass / straw storage, a seed master and fertilizer.
The city is the main hub, where you can find almost everything. Trade, sawmill, animals, fertilizer, straw sale, machine dealer and many more
The pigs are on a separate farm, far from the town.
The map has a realistic and beautiful landscape, it has become the most important for us.
There are large and small fields that belong to you (no fields available).
Under the forest is a large BGA. There is enough space, which one can possibly have his contracting company. Seed and fertilizer are available.
Map has no fatal errors, but it is the first version after the beta version (private)
Have fun playing
Yours sincerely
PsychiaterXxX
This is prohibited to change download link!
changes
03 Nov 05:11

Version 2.1.0

Aktuelle Korrekturen und Verbesserungen an meiner Karte. Es ist nicht viel Zeit naht FS19! Vielen Dank für spielen und helfen, meine Karte zu verbessern!

optische Fehler behoben
paar kleinere Sachen am Hof geändert
verbesserung der Stadt
neue texture und straßen
scripte bugs verbaut
PDA verbessert
map ein wenig entschlackt
andere kleinigkeiten und verbesserungen

07 Apr 18:30

Version 2.0.0

Changelog Freiensteinau V2.0.0

- Version mit viel besserer Optimierung, doppelte Dateien entfernt, Karte Gewichtsreduktion (mehr fps!)
- umfassendes Bugfixing
- Verbesserung der Textur und einiger Gebäudemodelle
- Kleine Änderungen der Felder und besserer Zugang
- Startfelder vorgegrubbert
- Probleme mit BGA behoben
- Platz für Strohberge
- Verbesserungen beim Handeln - Season Mod
- Moddesc Version berichtigt
- Und viele kleinere Überarbeitungen

28 Oct 10:46

Version 1.0.0
Files
Do you think this mod should be featured?