Joskin RDS 7500 Betimax
V 4.0 mod for Farming Simulator 15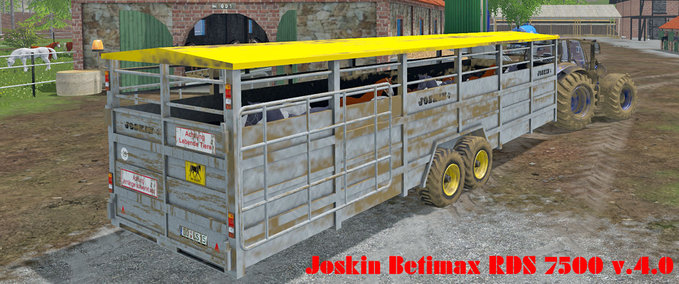 description
featured
NEW! * Transport of geese and young geese * NEW!
Changelog Version 3.7.1 (Log is error-free)

NEW - transport of geese and young geese.
NEW - Animal batch-Shield on the back, displays the contents of the load.
NEW - Automotive. Mark.
NEW - Goose boxes.
NEW - increasing the loading capacity.
NEW - textures of unloading animations of poultry changed. Thus in pups smaller animals are now being dumped than in fattening animals, which thus acts a bit more realistic.


Remarks:
By converting the Chicken- and Goose boxes, and the new arrangement of the boxes in the loading, the loading capacity for the poultry could be increased considerably.

Data of Joskin Betimax RDS 7500 v.3.7.1:
Pig = 50 pieces
Piglet = 90 Pieces
Mast cattle = 40 pieces
Calves = 60 pieces
Broilers = 240 pieces in 24 Chicken boxes
Young chickens = 534 pieces in 54 Chicken boxes
Mast geese = 240 pieces in 24 Goose boxes
Young Geese = 426 pieces in 54 Goose boxes



* Suitable for porkers, beef cattle and in addition also for chickens for fattening, young chickens, fattening geese and young Geese! *

* Ready for pig 5.0 and livestock market 2.0. *

The Joskin Betimax RDS 7500 in version 3.7 is just for all the thought, who would like additional transport trailer with this pretty well broilers, young chickens, fattening geese and young Geese. And who would like to use a cattle trailer with a large loading capacity.

For the plans of loading of broilers, young chickens, fattening geese and young geese I have created new wooden boxes. Here a nice little feature was still installed. The chicken boxes and Goose boxes are depending on what has been loaded for poultry, vary in size.
I wish you now much fun with the pretty Cattle Trailer.

best regards
Pandahma
Support only on http://norgeholm.bplaced.net! No support via email or PM!
Use only with the original download link!
Only with the original DL link in other Forums!
Credits
Pandahma (Ur-Mod: Bandit, Marhu)
changes
06 Dec 11:13

Version 4.0

Transport von Pferden und Jungpferden (Fohlen)
Files
| | |
| --- | --- |
| checksum: | 0845e1435ccf9811939ef6c64ac94fb2 |
| Version: | 4.0 |
| multiplayer ready? | yes |
| Author: | Pandahma (06.12.2015), (chicken2, young_chicken2, goose, young_goose, rabbit, young_rabbit, ChickenBox, GooseBox, RabbitBox, Kfz.Kennzeichen, Animal-Load-Shields, horse), (Ur-Mod: Bandit, Marhu) |
| price in shop: | 14500 LS |
| name in shop: | |
| description in shop: | |

Do you think this mod should be featured?