Crown Pack OY
V 19.8.1 (mp) mod for Farming Simulator 19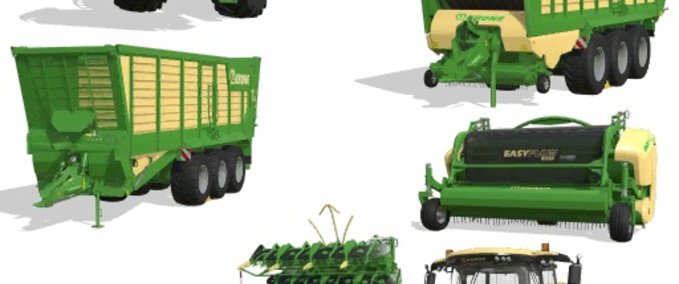 description
featured
The Krone Pack OY contains all Krone vehicles and tools with the following additional functions:
color selection

Increased capacity (optional) for BigX. Loader and trailer

Nursing tires (optional)

Increased working width and speed (20 km) of all cutting units and BigM

Increased transfer rate (5,000 liters / second)

Extended trailer hitch for BigX and BigM (optional)

Shortened engine start time (1 second) BigX and BigM

Engine variant (optional) BigM

EasyFlow converts straw swath to shredded material
Included in the Krone Pack OY are:
Big X 1180 forage harvester

Big M 450 mowing technology

TX 560 D trailer

ZX 560 GD loader wagons

Collect 900 forage harvester cutting unit

EasyFlow 300 S windrower

XDisc 620 grass cutterbar

Trailer cutting unit carriage for XDisc 620
Videos are the LetsPlay Yogibrunn # 2, in which the pack is presented.
Credits
Modell: 
Textur: 
Script:
Idee / Konzept: onkelogi
Tester:
Sonstige: 
changes
28 Jul 09:41

Version 19.8.1 (mp)

- Sichtbarkeit fixed
- Lichtreichweite erhöht
- Shopkategorie 'onkelyogi' zugefügt

15 Jun 20:52

Version 19.8 (mp)

- Collect 900P cutterEffect fixed
- BigM Lautstärke reduziert

17 Jan 17:38

Version 19.6 [mp]

Neues Schneidwerk Collect 900P für Pappeln
BiGX Überladegeschwindigkeit fixed

05 Jan 03:32

Version 19.5.1 [mp]

- BigM sound angepaßt für wirkungsvolleres Rauszoomen etc.
- ai der Schneidwerke fixed

31 Dec 05:03

Version 19.5 [mp]

- Neuer Sound für den BiGX und BiGM
- Reparaturintervall deutlich reduziert auf 1/10
- 3 neue Schneidwerke für den BiGX:
EasyFlow Standard
EasyFlow zur Gras-, Heu- und Strohaufnahme (auf vorbereiteten Karten)
XDisc konvertiert direkt Gras zu Heu (auf vorbereiteten Karten)
- Motorstartzeit auf 1 Sekunde gesenkt

28 Dec 09:50

Version 19.4 [mp]

bugfix BiGX und BiGM: powerTakeOffConfigurations wegen attacherjoint error

25 Dec 04:40

Version 19.3
Files

Do you think this mod should be featured?