Mobile conveyor belt
V 1.1 mod for Farming Simulator 2011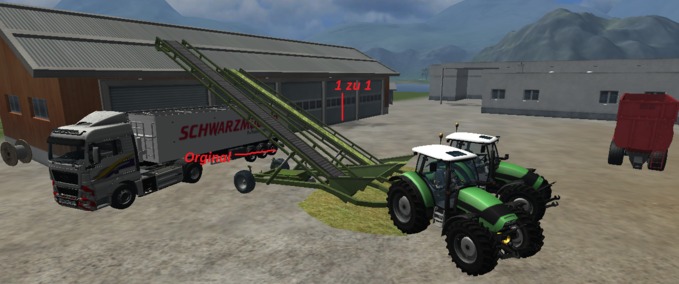 description
featured
For loading of silos and everywhere stall triggers (if any with this kind of operation)

Tested Everywhere Abkipp trigger:

Alternative Tipping LS UK Stargate Modding edit

Note: From the original manure pit is currently no load is possible.

Currently loadable types of fruit:

Standard Fruit + manure, fertilizer, silo, seeds, carrot potato, sugarbeet, soybean, rye, oat, sunflower, gravel, sand.

Lighting: light moving back, turn signals, brake light

Spotlight: Does the box under a conveyor belt. Resp. are turned off. However, it turns itself off when you go into the transfer mode (For safety's sake, the TÜV wanted.)

Is it sometimes necessary to reverse the conveyor belt to shunt it is possible to bring it into working position (K) and then bail out going to the box (J) and attach the tow bar. This can put itself back on again by going box and puts it back (J). Otherwise, they will back down when you go into the transfer mode, or it starts to loading. If you have forgotten it disengage once this is done automatically for both mounting the tow bar but also put away the shuffle mode.

Furthermore, there is still the opportunity to show some loading data suggest. During the loading go again to the box. Now, the way it exists in the HUD view (default) to display as well as an overlay on the screen directly (O). Display consists of name, crop, and vehicle capacity in the name and whose level-loading.

Otherwise, I can say a lot of fun loaded and who wants to get over it some time I wanted to make it Yet DL. I simply ask for mention in the loan and therefore can not unnecessary files such as indoors. In the model inserted to remove i3d models (except for particle systems), and no little pictures and the like are not required for operation. And please do not bring any new finish 2nd to the DL, senseless THANKS

 

And thank you for release to farmers Zero

So what has changed now, the warnings no longer appear in what was the first version!

And get a Lenkackse has!
Credits
Farmer Zero| fin050808 |Meyer123
images
Files
| | |
| --- | --- |
| checksum: | 0fafc1473e1072e87f3f4382cd09abf2 |
| Version: | 1.1 |
| multiplayer ready? | no |
| Author: | Farmer Zero |
| price in shop: | 7359 LS |
| name in shop: | Förderband |
| description in shop: | gefixt by fin050808,meyer123 modhosterteam |

Do you think this mod should be featured?