Mod manager
V 1.1.23 mod for Farming Simulator 15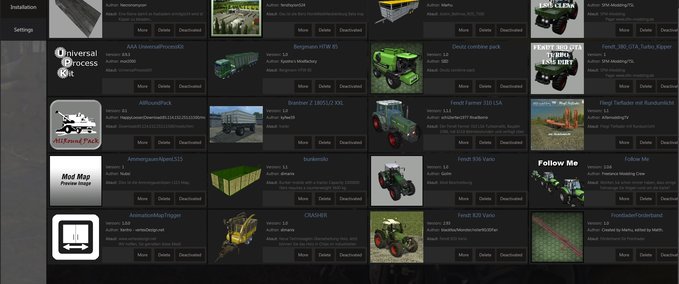 description
featured
In the pack german, englishand russian versiob.
Update for FS2015 Mod Manager. Installation, editing and disabling mods in Farming Simulator 2015. Features: – Change the purchase price of transport. – Change the value of TR. – Change Category. – Deactivate, activate fashion. – Installation installed browsing through fashion. – Remove fashion. – Change the installation directory mods. Added in version 1.1.23: – Ability to change the name (with the ability to insert $ l10n tags). – Added the ability to change into The supported modes: * Capacity * download speed * Speed unloading * Fuel tank * Using fuel (l / h) * Power braking, speed limit * * Power Required * Include \ off zero sowing in drills. – Added support for paths to images using the symbol "$". (You may have to specify the path to the installed game). – Redesigned installing mods. – Added package to the archive. – Added a warning if this mod, or a previous version is already installed. – Display category during installation. – Added option to cancel the installation.
Credits:
Mazesa
Credits
Credits:
Mazesa
changes
28 Jan 12:37

Version 1.1.23

Do you think this mod should be featured?