Upper Glantal in the South Palatinate
V 1.1 mod for Farming Simulator 19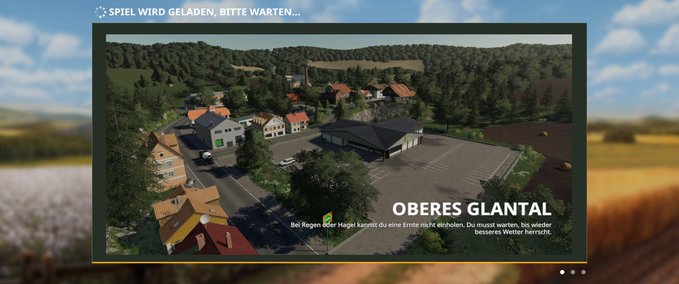 description
featured
Here I present you my map for the LS19. For a long time it was quiet around me, now I have time again for the Farming Simulator. The map should actually already appear for the LS17, unfortunately I did not make it in time. So the time passed and at some point the LS19 was there :-)
Now the map is ready so far, and should run every error free. Since the patch 1.2, the engine requires that every map has a waterPlane. This has also been adapted to the current patch.
The map reflects my home region and is modeled on this landscape. You will find on the map 2 villages (Rehweiler & Gimsbach). The Starthof is built in Rehweiler. You take over here a modernized medium-sized milk and arable farm. The lands are purchasable and thus you can buy and place new buildings as you like.
Furthermore, there are 3 purchasable forests, so that the foresters come to the taste. The meadows and fields are all different in size, from 800m2 to 6HA are all sizes available. Furthermore, many fields were created in realistic shapes, I'm not a big fan of perfectly square and rectangular fields ;-)
You can sell at the RWZ land trade or at the garden center in Gimsbach.
The map was helper-friendly designed and is already COURSEPLAY ready (collisions of the trees at the fields and meadows away)
A big thank you to all modders whose objects I have installed (mostly from LS17)
I will update the map regularly. Write your wishes and criticism in the comments.
Retransmission ONLY with the original download link!
Credits
Modell: acert
Textur: 
Script:
Idee / Konzept: acert
Tester:
Sonstige: 
changes
22 Feb 14:43

Version 1.1

- PDA Map überarbeitet
- Dekofelder von PDA entfernt (Frucht erscheint nicht mehr auf PDA)
- Deko Hofscheune nun Platzierbar
- Alte Scheune auf Hof entfernt
- Hofwerkstatttrigger entfernt
- Hofgrundfläche vergrößert
- Verkaufsmöglichkeit Milch bei beiden Verkaufsstationen hinzugefügt
- Verkaufsmöglichkeit Eier bei beiden Verkaufsstationen hinzugefügt
- Schweinemastbetrieb zum Güllekauf hinzugefügt
- Verkaufstrigger "Metzgerei"hinzugefügt
- Eierverkauf bei Metzgerei hinzugefügt
- Positionsleuchte WKA bei Nacht gefixt
- Clipdistances angepasst (Bessere Performance)
- Farmlands angepasst
- Hof Überarbeitet (Platzierbare Standartgebäude)
- Fahrsilo hinzugefügt
- Wassertrigger an Graben bei Hof hinzugefügt (Siehe PDA Symbol)
- Allen Bäumen Kollisionen hinzugefügt

- Storeplace überarbeitet
- Verkaufsstelle für Wolle gefixt
- Verkaufsstelle für Heu / Ballen gefixt
- Verkaufsstelle für Holz gefixt
Files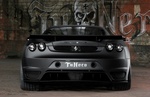 Do you think this mod should be featured?