1964 Ford T850 Semi
V 1.0 mod for Farming Simulator 19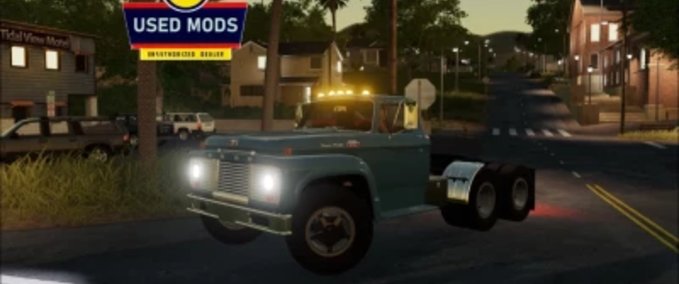 description
This truck is completely new to FS19. Typically we do a lot of edits or converting of mods but this one is all us. The 3D model was donated to us by J. Burson. I took it into blender and spent hours with it making it as realistic as possible. We used a few components from other vehicles but you won't find this mod anywhere else!
Credits: OK USED MODS & J&M FARMS/Giants/Chasis Credit FarmSimSteve, Caminokid, westmorgan, small American farming, Googleplex2010/Torquewrench1. Interior is from the Expendables 1972 Ford F100 but has been edited to give a slightly different appearance.
Price: $18,500
Daily Upkeep: 0
Category: Trucks
Configurations: Color Configurations, Engine Options
If You Discover Issues With This Mod Please Contact Us.
We Hope You Enjoy It!
Thanks again for your support, you're all OK in my book!
Copyright (C) GIANTS Software GmbH, All Rights Reserved
Come to OK USED MODS & J&M Farms and check out our current inventory:
https://www.facebook.com/groups/293483161641675/?ref=share
Credits
OKUSEDMODS
images
Empfehlungsrate
-/-
noch nicht genug Stimmen
Do you think this mod should be featured?
}