Towing chain
V 4.0 Beta mod for Farming Simulator 15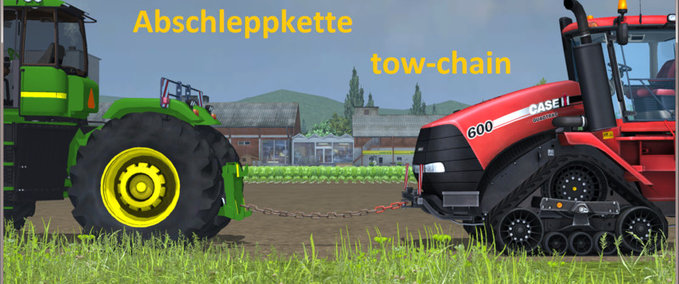 description
featured
Here for you a Fundmod, the flexible tow chain!
The chain makes with its individual members a realistic impression. But even more intended for multiplayer or perhaps Course Play, which was not tested)
The chain is ideal for a machine that needs to be repaired or stuck tow. Even with a heavy soils or under poor conditions can you work for example in group bandage and plow. The chain is more dynamic than the tow bar, but still lacks the fine tuning and a better way to transport them.
The mod's from LS13 well, we have the chain converts the script slightly adjusted and the weight. If someone even better place settings, please notify us.
Important:
Funmod and beta

The red end'll have to hitch the front of the tractor key Q
Then you can pull up slightly and secure with  key X chain for transporting the tractor
Then press the button X

again of use to solve, and go back a bit

Tug park to the rear of the chain

Then again sat in the other tractor and press key X

Thus, both tugs are connected
Known issues v4 Beta:
If not releases the brake in MP, has the drawn a short gas, then unlocks the brake

Handling is a bit of getting used to

This is what you have ...
https://www.facebook.com/Bullgore
Credits
Bullgore,Upsidedown,balogh2003
changes
20 Jan 20:17

Version 4.0 Beta
Files
checksum:
10907c81db6eb50e654d445cccca897a
Version:
4.0 Beta
multiplayer ready?
yes
Author:
Bullgore,Upsidedown,balogh2003
price in shop:
284 LS
name in shop:
Abschleppkette Funmod
description in shop:
Das Rote Ende der Kette muss an den Zug Schlepper. Das andere Ende der Kette wird vom Zug Schlepper aus mit Taste X an das abzuschleppende Fahrzeug gehängt.
Schreibt Vorschläge in die Modhoster Kommentare was ihr euch noch wünscht.

Do you think this mod should be featured?
}