Old Hagenstedt
V 1.9 mod for Farming Simulator 2013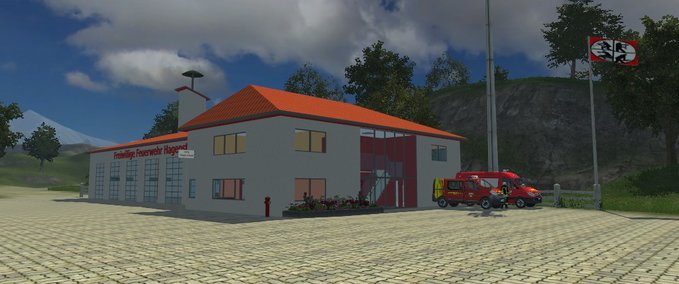 description
Willkommen in Alt Hagenstedt.
Den Forst Hof findet ihr in der nähe des Landhandels.
Wichtig ihr braucht den Forst Mod, erst dann werden die Gebäude und das Zubehör geladen!
Beim Gartencenter könnt ihr Mist, Gülle, Grass, Kartoffeln und Zuckerrüben Verkaufen.
Die Pferde Weide kann gleich gemäht werden, das Grass könnt ihr am Pferdehof Verkaufen oder auf dem Hof ins Futterlager Fahren.
Auf dem Hof gibt es einen kleinen Bauernmarkt zum Verkaufen der Eier.
Es gibt auch eine Feuerwache sie ist gleich am Ortseingang also eine gute Position um schnell am Einsatzort zu sein.
Die Rolltore der Feuerwache können nur von innen aufgemacht werden (Taste 0 ), die Türen von innen und außen.
An der Wache gibt es einen Hydrant zum Betanken der Löschfahrzeuge.
Die Abladestelle an den Hofsilos wurde durch eine Neue ersetzt.
Auf dem Hof ist eine Schweinemast und im Dorf eine Metzgerei mit Verkaufstelle für Schweine, die Schweine braucht man in dieser Version nicht zu Kaufen.
Eine Straße zum Bahnhof wurde Hinzugefügt.
An der BGA gibt es eine Zuckerfabrik und im Dorf findet ihr eine Aral Tankstelle und einen Edeka Markt zum Verkaufen von Zuckerrüben und Kartoffeln.
Es wurde ein zweiter Bauernhof an der Kuhweide gebaut mit Silos einem Futterlager und einer Gülle Pumpanlage.
PDA Erweiterung für die Füllstände des Futterlagers hinzugefügt.
Credits
Watermod V 3.0 (Marhu)
Futterlager V 1.2 (Frisco)
Fruchttexturen Forgotten Plants V 1.0 (Eribus)
Gartencenter Wb V 3.0 (Weltbauer)
Kirche (Loculus)
Großes Bauernhaus v 2.0 (Loculus)
Bauerngarten V 1.0 (Luculus)
Feldkreuz v 1.0 (Luculus)
FFW Hagenstedt v 1.0 (Wildfuchs)
Pferdestall mit Wassertrigger v 1.0 (_PaPa_)
E57 Sirene v 2.0 Nur als Deko keine Funktion (yomazy)
Mobilfunkmast v 1.0 (JauchenPaule)
Marktbuden v 1.0 (manni_112)
Weidenzaun Wb Pack v 1.2 (Weltbauer)
Weidentore Wb Pack v 1.0 (Weltbauer)
Platzierbare Pferde v 1.0 (Luculus)
Woodworks pack v 1.0 (modelBauer)
Original Texturen v 1.0 (JohnDeere6210se)
Bodentexturen v 3.5 (ZeFir)
Straßenschilder Pack (Nick98.1)
Advertising Sign including PSD v 1.0 (B34STx)
Ducks Ver. 1.1 (Sandgroper)
Altes Bootshaus v 1.0 (JauchenPaule)
Hof und Hallen Pack v 1.0 (SLJ-Agrar Team)
Realistic water v 2.0 (maki1234)
Forstmod Platzierbar (Forstmod-Team, rafftnix, BM Modding, Vertexdesign, fruktor, fendt2000, MadMax)
Heißluftballon (Ekkhard)
Wassertank mit Funktion v 1.0 (AgrofarmChris)
Katze Gans und Gartenbank v 1.0 (Monteur)
Haltestelle v 1.0 (_PaPa_)
Grainstation mit PS und Fruchtplanen v 3.0 (Germany Community Group martinbigM500)
Schweinemast (Marhu)
SchweineverkaufsTrigger v 1.0 (Bergi2001)
Metzgerei (v 1.0 SLJ Agrar)
neue schilder v 1.0 (Kirtz Pierre)
Hydrant mit Wassertrigger v 1.0 placeable (ModInc.Sven777b and Alex2009)
Hochsitz v 1.0 (Manu ya)
Fahrzeug Unterstand (Germany Community Group martinbigM500)
Deutschlandfahne (majo84)
Werbeschild v 1.0 (medizini97)
Platzierbare Waldtiere v 1 (Spieler74)
Tankstellen Pack Aral v 1 (SLJ-AGRAR)
EDEKA aktiv markt v 2.0 (| Mark44 |)
ZuckerRaffenerie v 1.0 (Trekkerbodo)
Sky HD Texture v 2.1 (xXApacheXx)
Cessna (WilliamT,Boeing777fan,Jeroen Hut,Ekki)
Schwäbisches Bauernhaus (KundS Modding)
ChoppedStraw v 1.2.06 (webalizer_ls)
Gülle Pumpanlage (Germany Community Group)
Altes HofSilo v 1 (-Kolbenfresser-)
Platzierbare Vogelscheuche v 1.0 (Spieler74)
Plazierbarer Schachtring v 1.0 (Kyosho)
PDA Erweiterung Futterlager v 1.0 (mx11)
Silo v 1.0 (Katsuo)
Waage für Maps (Alex2009)
Aussichturm (Schwaki[112TEC])
Rotating Clock (Mirda_TZS_09)
Feuerwehr Einsatzbaukasten (Schwaki[112TEC])
Feuerwehrfahne (Hellboy1975) (Kias) (FFWAndy)
Neuer Leuchtturm Borkum (Lecra)
Imbiss Wagen (Hewaaa)
Waschanlage (Movie-Profi,buchhauer,tackleberry,Blacky_BPG)
Vielen Dank an alle Modder :)
Benötigte Mods für diese Map:
Forstmod (Forstmod-Team)
PDA Fix v 2.3.2 (Marhu) http://marhu.net/ModPage.php?mod=PDAFix
MapDoorTrigger (John Deere 6930)  http://ls2013.info/map-door-trigger-4-0/
Map Ampeln v 1.0 (Bluebaby210)  https://mod-portal.com/forum/filebase/index.php/Entry/93-MP-MapAmpeln-V1-by-Bluebaby210/
ZZZ_ChoppedStraw.zip v 1.2.06 (webalizer_ls)  http://sharemods.com/gpuyp0ing5dg/ZZZ_ChoppedStraw.zip.html
Empfohlene Mods:
Verrotten Ausschalten (disablecropwithering v 1.0) (Patch 2.1 wird benötigt!)  https://www.ls2013.com/farming-simulator-2013/disable-crop-withering-v-1-0-sp.html
Guellepack 2 v 1.1 (Bayerbua)  https://www.modhoster.de/mods/guellepack-2-ab-patch-2-0
Milchtrailer Wassertrailer v 5.0 (Spucke)  https://www.modhoster.de/mods/milchtrailer-wassertrailer
Joskin Betimax RDS 7500  https://www.modhoster.de/mods/joskin-betimax-rds-7500--4#description
MFG _Snowman_
Credits
Giants, _Snowman_ 
changes
05 Aug 07:44

Version 1.9

Objekte wurden Hinzugefügt

05 Dec 12:30

Version 1.8
Files
| | |
| --- | --- |
| checksum: | 3b2775707d16f8c4f3cea334245d3e78 |
| Version: | 1.9 |
| multiplayer ready? | yes |
| Author: | VertexDezign | drY.Dezign |
| price in shop: | 600 LS |
| name in shop: | Schild |
| description in shop: | Dies ist ein platzierbares Schild mit Werbung. |

Empfehlungsrate
-/-
noch nicht genug Stimmen
Do you think this mod should be featured?