Trailer pack
V 1.2.1 Anhänger Pack mod for Farming Simulator 19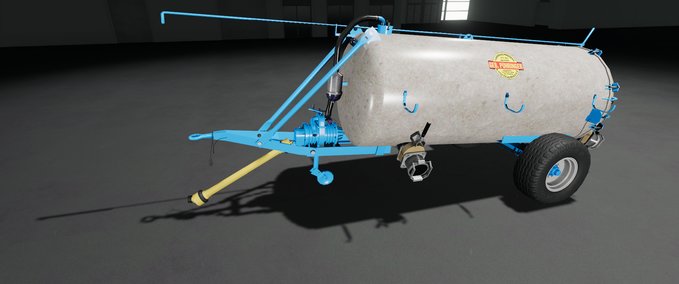 description
Hello, here we provide you the Universal 1-axle dump truck available. Some will know this tipper still from the LS17.
INFO:
Universal 1-axle tipper:
Included are:

Universal 1-axle tipper

(configurable in the shop)

Mengele

Maraton

Pühringer
Pühringer tippers
Brantner HB
Brantner HB Euroline
Carter Haflinger
Carter export
All tippers have the same body configuration (bale / transport cargo bed (including lashing straps), body 4000l (metal), body 8000l (metal) and body 12000l (metal + wood)).

The cable + hydraulic connection were taken over / used by the LS19.
Some (older) dump trucks have got a used look.
Is not perfect but should bring some variety and fun.
Have fun!
STEYR Modding Team
(unknown000, steyrmodder, Domi, John)
Credits
Modell: Giants Software/  Umbau: STEYR Modding Team, Güllefass: Modell: CebuljCek Modding, LS19 ready; STEYR Modding Team
Textur: Giants Software/STEYR Modding Team, Güllefass: CebuljCek Modding, STEYR Modding Team
Script: Giants Software
Idee / Konzept: STEYR Modding Team
Tester: STEYR Modding Team
Sonstige:
Sounds: Güllefass; thw helfer
changes
15 Nov 22:10

Version 1.2.1 Anhänger Pack

- Stützrad wieder sichtbar (Kipper)
- überflüssige Colli entfernt (Kipper)
- Hamster Ladewagen (grünen Lack geändert/korrigiert)
- Zapfwelle liegt nun am Boden auf im abgehängtem Zustand
(Miststreuer; Mengele, Kirchner, Ladewagen; Hamster)

14 Nov 20:44

Version 1.2.0 Anhänger Pack

Kipper, Miststreuer und Ladewagen zu einer "Mod-Datei" zusemmengelegt.
- moddesc angepasst
- Unterlegkeil-Halterung überarbeitet (Kipper)
- Steyr Hamster Ladewagen hinzugefügt
(Basis Modell: Krone 2500 Turbo von Giants Software
(Klassiker der Landwirtschafts DLC))

!!
Die "Mod-Dateien"; "Universal 1Achs Kipper", und "Miststreuer klein" könnt ihr nun aus dem Modordner entfernen, die sind nun in dem "Anhänger Pack" enthalten.

26 Oct 20:45

Version 1.0.0 Miststreuer Pack

Als Basis wurde der Krone Optimat Miststreuer verwendet.
(Urmod: Klassiker der Landwirtschafts DLC von Giants Software ausm LS13)
- LS17 ready (Buzzzard Modding)
- LS19 ready (STEYR Modding Team)

3 Modelle kaufbar:
- Pöttinger 4500 V
- Mengele Doppel-Trumpf ES 300
- Kirchner Triumph

- Holzaufbau + Gitter vorne
- keine Beleuchtung, nur Rückstrahler hinten (haben in echt auch keine Beleuchtung drauf)
- liegende Streuwalzen
- 4.5m arbeitsbreite
- leichter "Used-Look" (gebraucht spuren)
- Unterlegkeile hinzugefügt
- animierter Krazboden

Kapazität:
- 3000l, mit Holzaufbau 6000l (Mengele bzw Kirchner Miststreuer)
- 4500l, mit Holzaufbau 9000l (Pöttinger Miststreuer)

24 Jul 17:36

Version 1.1.0 Universal 1 Achs Kipper

- Füllplane gefixt (neu positioniert)
- Unterlegkeil-Halterung (hinten) neu positioniert
- Kippzylinder ist nun sichtbar

18 Jul 21:07

Version 1.0.0 Güllefass 3000l

- 3000l Güllefass hinzugefügt
- im shop wählbar "Kirchner 3000" oder "Bauer" Beschriftung
- Gülleverbrauch redutziert (dass Fass wird nicht so schnell leer)
- Kabel (Beleuchtung) vom LS19 verbaut

Sounds: thw helfer

09 Jul 01:19

Version 1 Universal 1 Achs Kipper
Files

Empfehlungsrate
-/-
noch nicht genug Stimmen
Do you think this mod should be featured?
}