Animation Map Trigger
V 1.0.3 mod for Farming Simulator 15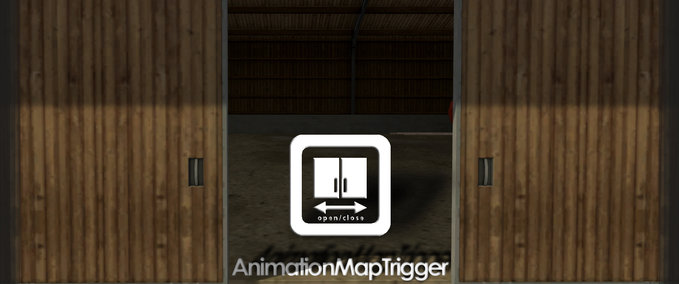 description
featured
Presets
Animation Map Trigger

The AnimationMapTrigger from Xentro is needed to open animated doors and gates ingame.
A short How-To is inside the .zip-file.
The name of the zip-file has to be AnimationMapTrigger for full functionality
Support only on http://vertexdezign.net/forum/
Open doors and gates
Custom door-sounds
Custom huds
Player and vehicle controlled
v1.0.2 Datum 13.02.2015
v1.0.1
Warning message added if one of default texts added to globalTexts
CloseTime/OpenTime now take into account the time gap from 0 to openTime
Disable text attributes added thats being showed if trigger is closed by "time"
Das Mod ( Paket ) darf auch auf anderen Seiten zum Download angeboten werden, aber nur unter Verwendung des Original Download link!

Das Mod ( Paket ) darf ohne Zustimmung des Modders zu finden bei vertexdezign.de nicht verändert und nicht neu hochgeladen werden!

The Mod ( package ) can be release on other Websites, but only use the original Download Link!

It´s not allowed to edit this Mod ( package ) and no reupload without the permission of the Modder. You can find the Modder at http://vertexdezign.net/
Credits
Script: Xentro
changes
08 Jul 15:43

Version 1.0.3

Do you think this mod should be featured?
Unterstütze den Entwickler!
Jetzt mit PayPal spenden
}