AutoDrive Courses for Multimap2019
V 1.2 mod for Farming Simulator 19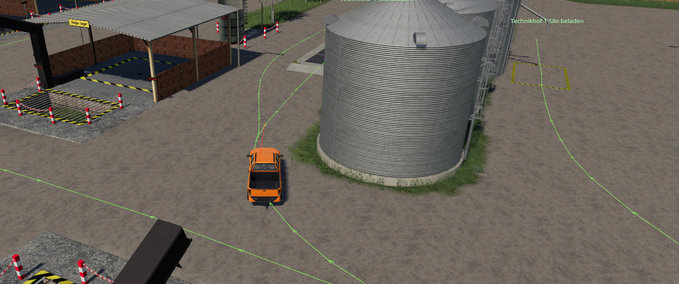 description
AutoDrive Courses for Multimap2019 v. 1.1.1.1
Approach points for all outlets and fields
As the AutoDrive courses ask the same questions over and over again how to integrate them:
Read the Readme in the zip-file!
I will NOT answer any questions here.
AutoDrive and CoursePlay are now working together
Since the CoursePlay version 6.01.00231 there is an option that z.Bsp. Self-loading wagon or fertilizer / seed drill drivers can leave the field for unloading or filling with AutoDrive.
This is a brilliant extension. So you can do the field work of the CP driver and let the AD driver use the road network. This saves many many CP downhill routes.
 Now it makes all the more sense to drive the road network with AutoDrive.
 In the AD version (v1.0.3.5) I use, however, the settings in the AD setup for "field exit" only work for the descenders of CP threshers. Loader wagons and fertilizer / seeders always want to leave the field via the next possible waypoint for emptying or refilling, which of course often leads to collisions with obstacles. Therefore, I have provided all the fields with extra circuits, which lead the drivers on leaving the fields to collision-free exits.
Missing links or other problems please write here in the comments.
Credits
Modell: 
Textur: 
Script:
Idee / Konzept: 
Tester:
Sonstige: 
changes
23 Jul 13:00

Version 1.2

Wegführung an Kreuzung Feld28/Feld33 geändert. Da haben sich die Fahrzeuge immer festgefahren wenn sie von Westen kamen.

17 Jul 14:01

Version 1.1

Ein paar kleine Änderungen.

Für die, die es genau wissen wollen:
- Feld16/17 westl. Ausfahrt - fehlenden Rechtsabbieger ergänzt
- Feld 30/31 Feldweg so geändert, dass dort kein Durchgangsverkehr mehr fährt
- Feld 21 Zufahrt geändert. Breitere Fahrzeuge blieben an Baum hängen

15 Jul 10:35

Version 1.0
images
Files

Empfehlungsrate
-/-
noch nicht genug Stimmen
Do you think this mod should be featured?
Unterstütze den Entwickler!
Jetzt mit PayPal spenden
}