AutoDrive Courses for Multimap2019
V 2.2.4 mod for Farming Simulator 19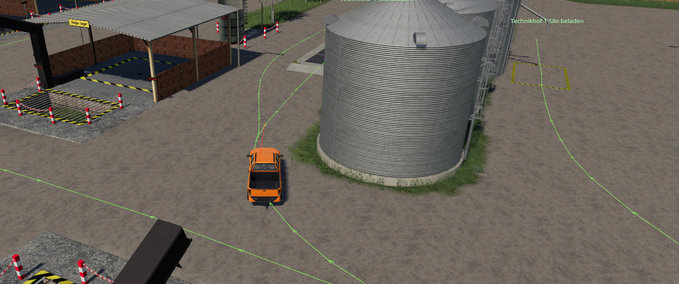 description
featured
AutoDrive Courses for Multimap2019 v. 2.2
Approach points for all outlets, fields and productions.
As the AutoDrive courses ask the same questions over and over again how to integrate them:
Read the Readme in the zip-file!
I will NOT answer any questions here.
Missing links or other problems please write here in the comments.
Credits
Modell: 
Textur: 
Script:
Idee / Konzept: 
Tester:
Sonstige: 
changes
20 Oct 07:23

Version 2.2.4

Einige kleinere Änderungen.

11 Oct 09:43

Version 2.2.3

Lager Häckselgut & Heu: Beladepunkte verschoben
Tierställe angeschlossen.

08 Oct 08:23

Version 2.2.2

Futterfabrik: Zielpunkte Schweinefutter und Mischfutter ausgetauscht
Komposter angeschlossen

06 Oct 22:51

Version 2.2.1

Zuckerwerk u. Ölmühle: jeweils Beladepunkt für Mischfutter angepasst (waren zu weit vorn)
BGA: Bunker-Durchfahrten hinzugefügt. Diese haben jeweils einen eigenen AD-Ordner erhalten, damit man die neue Rotationsfunktion beim Abladen nutzen kann (siehe Beschreibung beim Modder)

06 Oct 06:00

Version 2.2

Futterfabrik: fehlende Zielpunkte ergänzt
Zuckerwerk: falsche Benennung des Abladezielpunktes geändert und Ausfahrt/Einfahrt verbessert

05 Oct 08:03

Version 2.1

Streckennetz für die Multimap-Version 2.1 mit Produktionen erweitert.

23 Jul 13:00

Version 1.2

Wegführung an Kreuzung Feld28/Feld33 geändert. Da haben sich die Fahrzeuge immer festgefahren wenn sie von Westen kamen.

17 Jul 14:01

Version 1.1

Ein paar kleine Änderungen.

Für die, die es genau wissen wollen:
- Feld16/17 westl. Ausfahrt - fehlenden Rechtsabbieger ergänzt
- Feld 30/31 Feldweg so geändert, dass dort kein Durchgangsverkehr mehr fährt
- Feld 21 Zufahrt geändert. Breitere Fahrzeuge blieben an Baum hängen

15 Jul 10:35

Version 1.0

Do you think this mod should be featured?
Unterstütze den Entwickler!
Jetzt mit PayPal spenden
}