Mobile crane
V 3.1 mod for Farming Simulator 2011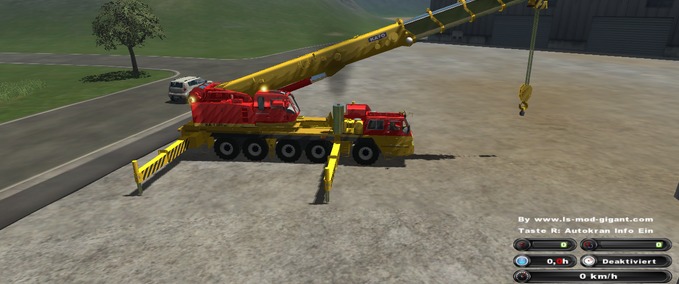 description
Auto Crane V3.1
Here it is exclusively a SP MOD can also be used with the MP eingeschrenkten functions.
What's New in V3.1
Rope is now moving faster (hold button 8 and 9 more)
Additional camera installed on the crane hook (for greatest accuracy)
acquired by the V3
- (Increase idle) throttle limiter installed - - Chrome installed parts - weight adjusted - speed camera installed on the posts - Blitzer forefront built on poor - boom highlights - counterweights installed - turn signals under construction - interior expanded license plate installed - and much more
- New curves supporting documents in the driving behavior has been adjusted
- Acceleration was changed
- Braking distance was adjusted
- Maximum speed was adjusted to 70 kmh (depending on substrate)
- Movement speed of the entire Oberwargen reduces work for more accurate
- Hacking is now drainable steel wire
- Mirror was installed
- 4 were used RUL
- Lighting installed V3
- Working front lights installed
- Work light crane hooks installed
- Camera realigned
- New Sound
- The return value go Pipen
- Exhaust fumes renewed
- ModDesk / adapted fahrzeug.xml
Keys: Hielfe is displayed with the key "R or 0" in the game
Must be unpacked all the mods in the mod folder By pcspast [http://www.ls-mod-gigant.com/fdk]
Additional Attachments:
Crane fork http://www.modhoster.de/mods/kran-gabel
Pliers http://www.modhoster.de/mods/rundballenzange
Work basket http://www.modhoster.de/mods/arbeitskorb-mit-licht
Holzgreifer http://www.modhoster.de/mods/small-log-grabber
ATTACHMENTS all these work perfectly and can be angehänkt on crane
The mod may only use the original download link and mention of the name modders and forums will be posted on another forum
the mod may not be altered or be made to the new DL
! It may not be offered Werit links!
Original download link to use!
Keep the original download link!
Credits
Modder: pcspast
Unterstützung:von Team by www.ls-mod-gigant.com
Files
checksum:
8d383ce602e3ea095f826855ac32e27c
Version:
3.1
multiplayer ready?
no
Author:
pcspast by ls-mod-gigant.com
price in shop:
380000 LS
name in shop:
Kato KA 1300SL V3.1
description in shop:
Autokran Kato KA 1300SL V3.1 Schwere Version
modder:pcspast
by: www.ls-mod-gigant.com
checksum:
ae389ee5e40378db9a2333d33cb8aa7d
Version:
1.0
multiplayer ready?
no
Author:
pcspast
price in shop:
900 LS
name in shop:
kran unterlage
description in shop:

Modell: pcspast
Textur: pcspast

Empfehlungsrate
-/-
noch nicht genug Stimmen
Do you think this mod should be featured?
}