BIG BUD 16V 747 New wheels
V 1.0 MR mod for Farming Simulator 2013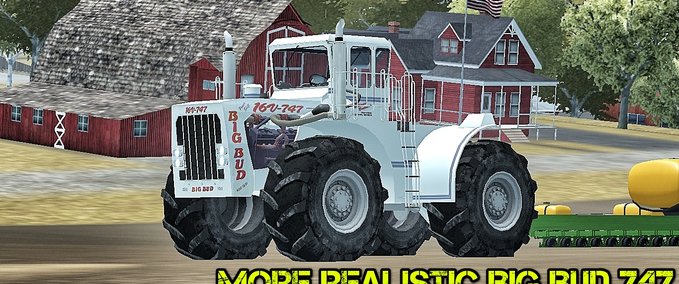 Credits
BalintKopsan
changes
14 Mar 22:57

Version 1.0 MR

More realistic version!
-openable door
-NEW Wheels
-BIG model (original size)

02 Dec 19:23

Version 3.0

Completely new tires with AO textures
Added working lights on the roof - AO textures

28 Nov 08:27

Version 2.0

smaller bigbud (now normal size)
Real Exhaust Particle System
handbrake
added hydraulics
double wheels
(you can add them separately to the front or back tires by pressing Numpad 8 and 9)

25 Nov 17:35

Version 1.0
Files
checksum:
d10e8480d742a3aa9156c20c2482b551
Version:
1.0 MR
multiplayer ready?
yes
Author:
BalintKopsan
price in shop:
145610 LS
name in shop:
"MR" Big Bud 747
description in shop:
Bigbud 747, the tractor was built to produce 760 horsepower using a 16-cylinder Detroit Diesel engine.
Credits: BalintKopsan.
Do you think this mod should be featured?
}