BIG M 500
V 2 mod for Farming Simulator 2011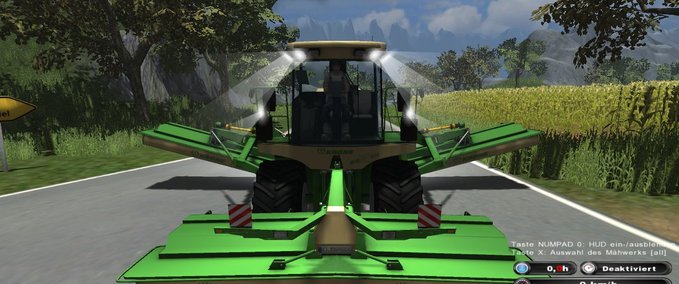 description
featured
V2 enhancements:

- Improved brakes
- Front mower running in the MP as a client now quietly on the floor
- New Mähwerkssound
- IC improves
- Optimized conditions of loading after first saving Mowers
- Camera position improves
- Low Attacher added
- Improved swath width
- Radius of the wheels improves
- Performance Settings à la MadMax

Price:
LS 350 000 €

Polys:
92 478


Rights:
Please accept the work of modders and uses the original download link.
PLEASE RESPECT THE AUTHOR'S WORK AND KEEP THE ORIGINAL DOWNLOAD LINK!
Credits
Krone Big M 500

Credits:
Modell: raptor/claasy
Textur: fruktor
Ingame: fruktor
Skripts: fruktor, SFM, sven777b, sven18koehler
Reifen : 3xitus

Besonderer Dank geht an:

daywalker
Files
checksum:
219449a1d295964ccef38abb7eef2ac5
Version:
2
multiplayer ready?
no
Author:
Modding-Society
price in shop:
350000 LS
name in shop:
Krone BigM 500 v2
description in shop:
Der Krone BigM 500 überzeugt als Hochleistungs-Mähaufbereiter der Superlative!
Modell: raptor/claasy
Textur,InGame: fruktor
Script: fruktor, SFM, sven777b, sven18koehler
Abstimmung: MadMax


Do you think this mod should be featured?
}