British Beef Farm
V 2 HD mod for Farming Simulator 2011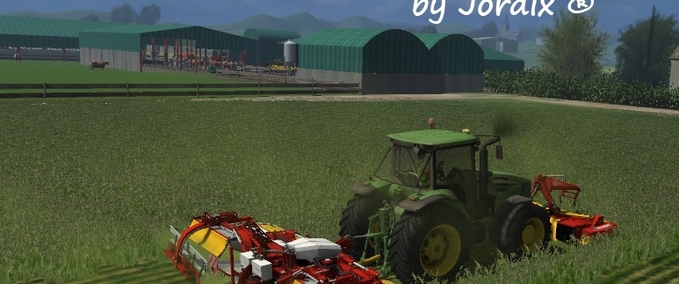 description
featured
Hello!
After many hours of work I am proud to present second version of my previous map British Beef Farm HD. It is highly detailed medium size map set in England.
Features
* Default + Fruits sugarbeet (sugarbeet mod compatible), potato (potato mod compatible)
* Mod manure
* Weed mod
* Cowshed manure
* Realistic prices
* Ability to transport and sell cows and sheep
* Adjusted growth times
* BGA silo
* Cow feeding
* Multisilo
* Opening doors
please watch videos for trigger information
video 1 cow zone
video 2 farm
video 3 and village beyond
i hope you will enjoy playing this map as much as i enjoyed making it
UNPACK THE ARCHIVES TO YOUR MODS FOLDER
THIS MAP CAN BE OFFERED ON OTHER SITES WITH ONLY ORIGINAL DOWNLOAD LINK
Credits
empty map,cattle fence-DarekLS
grainshed-Blackjack, moped killer
terrain textures-melfoy
farm buildings, houses, livestock market, textures-LS-UK Modteam
cattle barn-Tommy23
english roads-Russ
bale/dung shed-eadams, feeder ring-Deutz fahr uk, tommy23
slurry pit-Arno, SKP
hedge-Giants, spider100
weight station-Eifok Team(Psyko, Noppi, Fruktor, Sven18 Koehler)
cattle grid-willjsavage
dealer building-Andrew Stanford
greenhouse, reception-dodo27
wall and fance-Matt390t(CM Modding)
bga silo-Heady
modern shed-DaleC
bridge-Fendtfan1
weed mod-Headshot XXL, Burner
manure mod-Koper, HmcrE
fruit type specs-Dr.Mod.Hewaaa
concrete block-7930 Power, Saschi
farm animals-Maxter
cattle gate-iMarvin, Fiat80-90DT
manure plane-Slartibartfast
sugarbeet texture-Bayn
maize texture-Bjorny
sugarbeet lager Jack trek
hd ground textures GhillieSniper
hd grass ACERT
grain mill marjas31, Wojtyla28
short grass texture layout Zoli108
changes
18 May 03:23

Version 2 HD

Do you think this mod should be featured?
}