BurgHausen2k19
V 1.1 mod for Farming Simulator 19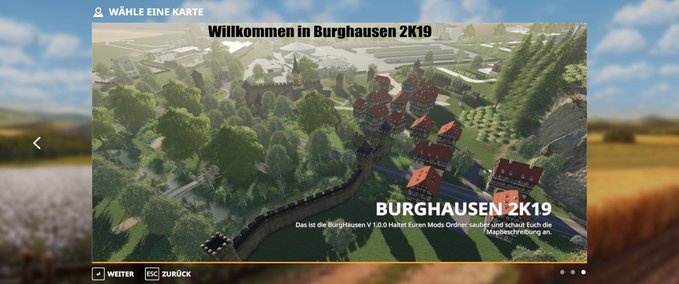 description
Welcome to our first built map of Burghausen, this map is something for individual players as well as on the Dedi with a maximum of 4 people, it is the Global Company built permanently built productions BGA firmly farm with all animals. It is also season ready.
Built productions
Sawmill with paper mill
Empty pallets factory
bakery
Flour
sugar
Hünerfarm
liquid egg
Milchwerk
We the GMT team hereby wish you much fun with the first version of BurgHausen2k19.
You receive support via our Discord:
Link: https://discord.gg/M9f2B8P
Credits
Modell: GMT_Blacklist
Textur: Giants
Script: Kevink98 GC/tn47 Blitzer/Relaismus Modding Season
Idee / Konzept:GMT_Team 
Tester:GMT-Team,IrrenhausTV,Alfgo 
Sonstige: Seasons Tannen Kastor,FSM-Atabogo,Luan,BernieSCS,LSMC-Kevink98,tn47,Falpos.GMT_FrankGTB/Vorarbeit/PDA
changes
25 Nov 11:11

Version 1.1

Colli am Hackschnitzellager Entfernt
PDA Gefixt

06 Nov 18:51

Version 1.0.0.3

Season Tannen getauscht (Fehler beim fällen)
callStack beim Bäume pflanzen Behoben.

03 Nov 22:00

Version 1.0.0.2

Bäckerei trigger Roggen,Gerste und Zucker gefixt
Schnee Maske in den Ställen eingemalt

03 Nov 20:42

Version 1.0.0.1

Weiter Wiesen und Wälder kaufbar hinzugefügt
Strohverkauf jetzt an der Verkaufsstelle möglich
Zusatz Früchte können jetzt im Silo gelagert werden inklusive Silage zwecks Sesons
Speiseöl Produktion Gebäude sowie zu tiefe Deko angehoben
Abladestellen Bei Speiseöl Produktion sowie bei der Mehl Produktion gefixt
Milchwerk schwebendes Geländer gefixt
weitere Feldweg zu den neuen Wiesen hinzugefügt

02 Nov 15:13

Version 1.0
Do you think this mod should be featured?
}