Cappeln Northern Germany
V Cappel Norddeutschland mod for Farming Simulator 17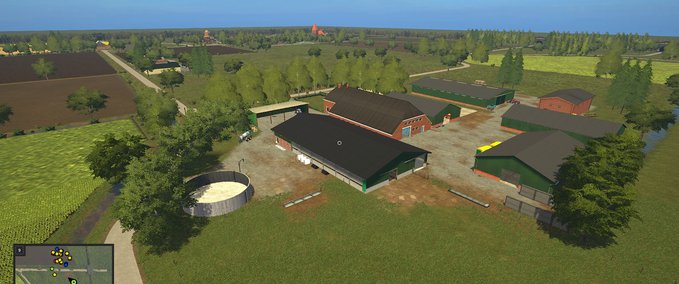 description
featured
Moin ..... Today a small map from the north .......... Cappeln in northern Germany!
First of all, a huge thanks to Carlos22 for the release to the further building of his Ostfriesland map since he has no time ... Thanks for this otherwise it would not give this MAp.
Thank you also to all of which I have installed the objects here on the map without you there would not be something ......... You have the best !!!!!!!!!!!!!!!
To the map ...... There is a main house where the cows are, pigs' pows ??and sheep-breeding are just outside (sheep run around the dike)
A BGA
Sugar factory
Country trade
BayWa
Wool sale
Three water bodies
Milk sales
Butcher
In the village at the mousetrap you can buy animals since the operator is also a cattle trader. You can also buy directly at the plants.
A good package of take-off vehicles is distributed in the main house.
There are medium to large fields as well as many meadows for green section.
So to me: I am still bloody beginner what the map is concerned, but think times that I am on the right way, for me it is still a beta since still things are changed or go to come. The map runs super with me though It has errors but has still to be fixed if I have learned how to do that is already glad that I got with the PDA as well as the preview picture .... one learns just to stop.
Pedestrians and traffic are still there I am now like you sowas built
So first have fun on this map and do not go straight with the club or bad commissions on me
To the point
RUBBER COVER
Credits
Modell: 
Textur: 
Script:
Idee / Konzept: Carlos 22 / weiterbau Ruebenpaule
Tester:
Sonstige: 
changes
27 Apr 14:27

Version Cappel Norddeutschland
Files
| | |
| --- | --- |
| checksum: | 90c2878c6f5492fa868a8d180ce457ae |
| Version: | Cappel Norddeutschland |
| multiplayer ready? | yes |
| Author: | Ruebenpaule |
| price in shop: | LS |
| name in shop: | Cappeln |
| description in shop: | Cappeln |

Do you think this mod should be featured?
}