Case Steiger
V 6 mod for Farming Simulator 17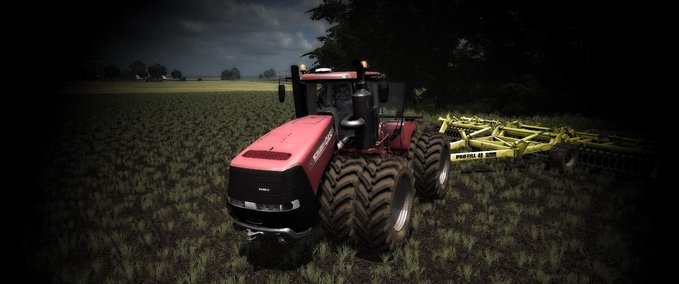 description
featured
Hello everyone,
since there was no decent Case Steiger mod for the FS17, I decided to give it a go and edit the ingame GIANTs Quadtrac model.
You can choose between the Case Steiger (wheeled) and the Case Quadtrac.
The tractor has several engine options:
Case Steiger 370
Case Steiger 450
Case Steiger 470
Case Steiger 550
Case Steiger 580
Case Steiger 600
Case Steiger 620
The Quadtrac has the same engine options.
There are several wheel and two track options for the tractor.
The tractor comes with selectable light bars.
The current version includes the following scripts:
-ICControl
-DoorOpener
-BeifahrerV3//Passenger Script
-IndoorSounds
-DynamicHoses
-SpeedJoyStick
-Cabsuspension
Have fun and enjoy.
Credits
Modell: GIANTS; Rafazr
Textur: GIANTS; Rafazr
Script: GIANTS; me
Idee / Konzept: me
Tester:
Sonstige: 
changes
09 Jun 01:44

Version 6

-AdBlue hinzugefügt
-OilChange hinzugefügt
-Nummernschilder hinzugefügt (Können über IC ein- und ausgeblendet werden)
-Kleine Fehlerkorrektur am Steiger 3D Modell

22 May 21:03

Version 5

-DoorOpener Script hinzugefügt
-IndoorSound Script hinzugefügt
-Reifenabstände angepasst
-Kettenlaufwerk angepasst

19 May 15:03

Version 4

-Dynamic Hoses hinzugefügt.

16 May 22:04

Version 3

Leider hatte ich in der V2 ein paar Änderungen vergessen. Das habe ich jetzt nachgeholt.

16 May 21:37

Version 2

-ICControl hinzugefügt
-SpeedJoystick hinzugefügt
-Kabinenlicht hinzugefügt
-Bedienterminals sind nun Emissive, d.h. sie leuchten auch im dunkeln
-Kabinenfeder hinzugefügt

01 May 15:27

Version 1
Files

Do you think this mod should be featured?
}