2 Downloads today
35,443 Downloads total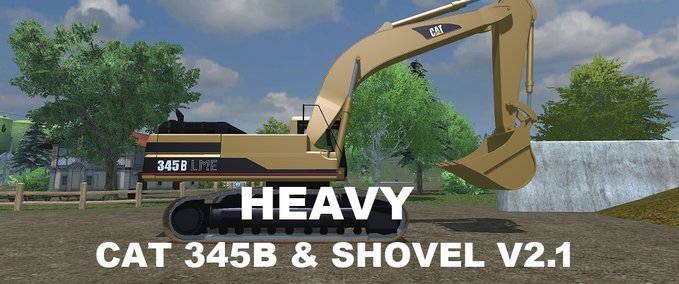 Cat 345B Pack v 2.1
at 345B Excavator version 2.1 "Heavy"
In this version the weight (mass) has been increased to "190" to compensate for the track movement while turning the turret, I also slowed down the movement so it is more controled. The main arm keys have been inverted "n - Key" = down and "j - key" = up.
All credit for the Mouse Control Function goes to ieg53i, without his efforts this release would not have been possible, thank you ieg53i. I would also like to thank Ghost78 for his support that made this possible

So here is the cat 345B Excavator and shovel Version 2.0
You need to unzip Cat_345B&Shovel_V2_UnzipMe.zip and place the two files inside into your mod folder.
Changes in V2.0:
The log file is error free (see attached picture)
Mouse Control
Fixed Lights
Textures adjusted
Shovel capacity = 10,000 Litres
Fruits that it can handle: wheat | barley | rape | maize | potato | sugarBeet | grass_windrow | dryGrass_windrow | wheat_windrow | barley_windrow | silage | forage | chaff | manure
NOTE: Some items could not be completed,
1. Hydraulic sound when using mouse control does not work, the problem is to complicated to fix and wil not be resolved.
2. I attempted to rescale the mod but this created many other issues so the overall size is about about a metre over what it should be in real life.
None of the items above cause any errors or effect performance in any way.
IT IS NOT PERMITTED TO UPLOAD THIS MOD TO ANY OTHER SITE EVEN IF YOU HAVE PERMISSION TO UPLOAD MY OTHER MODS.
THIS MOD "Cat 345B V2.1 AND Cat 345B Shovel V2" ARE TO REMAIN ON THE MODHOSTER SITE FOR DOWNLOAD ONLY.
Credits:
Original Cat345B and Shovel author Fredzaza
Original script Fredzaza
Mouse Control by ieg53i
Terra Trac script by shangri66
Beacon from Cat 966H by Tento
Hope you enjoy
Cheers
Getsome2030