CLAAS Arion 620
V 2.1 MR mod for Farming Simulator 2013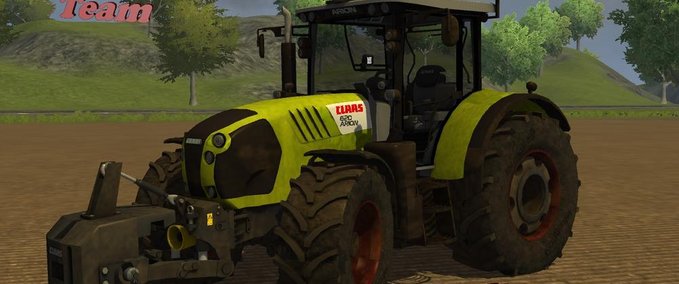 description
featured
Big tractor technology.
With the new ARION 500/600 models, CLAAS now offers the technology and comfort of CLAAS high-horsepower tractors but in the 140 to 184 hp power range. Experience even more comfort and practical solutions in the newly developed cab.
The high-performance 4-cylinder engine in the ARION 500 series provides outstanding versatility and power potential, particularly in PTO and front loader work. The 6-cylinder engine in the ARION 600 series features impressive tractive power and runs extremely smoothly both in the field and during transport operations on the road.
And if supreme comfort and handling aren't top priority, there's an entry-level model: the ARION 600 C. There's a separate brochure on the ARION 600 C with a lot more information and interesting details.
zip contains tractor and weights
tractor has an animated interior, fully lit and functional
Arion:
Model: Garbage
Textures: Smety
InGame: Garbage
Weights:
model: Angelus
Textures: Smety
InGame: Garbage
Credits
Model: Smety
Textures: Smety
In game: Smety

web: www.zdbudiskovice.nolimit.cz
facebook: www.facebook.com/groups/154443187931335/
youtube: http://www.youtube.com/user/smetyj
changes
02 Jun 15:28

Version 2.1 MR

MoreRealistic - fix
RPM and other

27 May 18:30

Version 2.0 MR

More Realistic

21 May 20:24

Version 2.0

- new wheels
- wheel dirt
- edit texture
- new interier sound
Files
checksum:
d064cac954edf6dd709094d83d470eba
Version:
2.1 MR
multiplayer ready?
yes
Author:
Smety
price in shop:
115860 LS
name in shop:
MR Claas Arion 620
description in shop:
Model: Smety
Textures: Smety
In game: Smety
MR: EngeldesHasses
www.zdbudiskovice.nolimit.cz

Do you think this mod should be featured?
}