Claas Dominator 88s
V 1.1.1 mod for Farming Simulator 15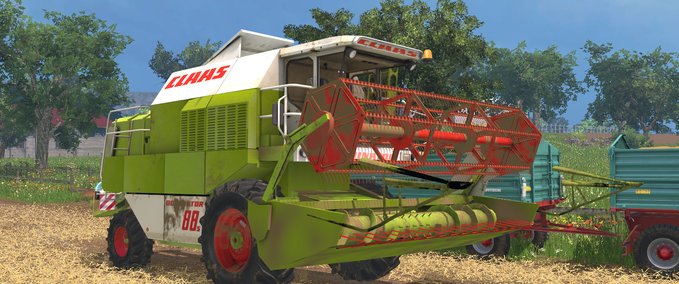 description
featured
This is the non-Advanced Version of the Dominator 88s. This means, that the gearbox script and the manual cutter height is not included.
HERE you can download the Advanced-Version.
The alternative Download (uploadfiles.eu) only contains the updated script,

NOT

the complete combine!
(Installation: Open ClaasDominator88s_nonAdvanced.zip, go to the folder 'Scripts' and copy the new Files from the updated-scripts-v1.1.1-nonAdvanced.rar in the ZIP-File.)
Passenger Script


Ladder and door can be opened


numberPlates-script
current load with effect on harvest

over 90% load the harvest earnings will be lower
at 100% load the combine will block

new, realistic Sounds (also Indoorsound!)

C420: Speed of reel etc depends on engine RPM

C420: animated blades
4-row maize cutter

Credits
Conversion to FS 15: SIID
Conversion cutter to FS 15: lookee86
Amendments in the model Header: GoldFox
New Scripts, Sounds, etc.: Rival
changes
15 Jul 19:11

Version 1.1.1

- MP compatibility
The alternative link are the updated scripts, put them in the scripts folder if you already have v1.1

13 Jul 18:52

Version 1.1 non-Advanced

Do you think this mod should be featured?
}