Claas Xerion 5500
V 1.1.0.7 mod for Farming Simulator 22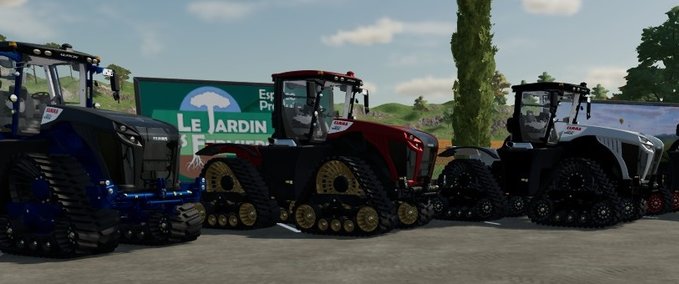 description
Here times the Claas Xerion 4500-5000 from the patch 1.4.
Unfortunately, I can not release from the Ls19 because then I would like to provide you with the new one.
.
This is not yet final, can always come what to it.
.
What would be made:
Main color selectable
.
Roof color selectable
Weight color selectable
Smoke renewed
4500 and 5000 decals renewed
Xerion decals on roof renewed
Brake light fixed and adjusted
Chassic config installed
Speed changed to 80KmH
Trelleborg wide tires added
Michellin wide tires added
Michellin wide tires 2 added
Maintenance tires added
added twin maintenance tires
added new 5500 decals
added more motorconfig 5500 with 1000 hp
Now supports prescision farming DLC
RelDirt color added
Terra tires added
Rear suspension adjusted
New crawler installed which is usable with rimcolor and chassic function
weight slightly adjusted
adapted some XML entries
own store category
new store image
Credits
Modell: 
Textur: 
Script:
Idee / Konzept: 
Tester:
Sonstige: 
changes
13 May 18:44

Version 1.1.0.7

Standart Crawler haben nun farbwahl
Crawler in chassic config verbaut 3 Farben zur auswahl
Im Frontgewicht ist es möglich eine Kette auszuwählen
Ketten Farbwahl möglich

26 Apr 10:36

Version 1.1.0.2
Files

Empfehlungsrate
-/-
noch nicht genug Stimmen
Do you think this mod should be featured?
}