CornBelt "Reloaded" 16fach
V 1.0.0.0 mod for Farming Simulator 17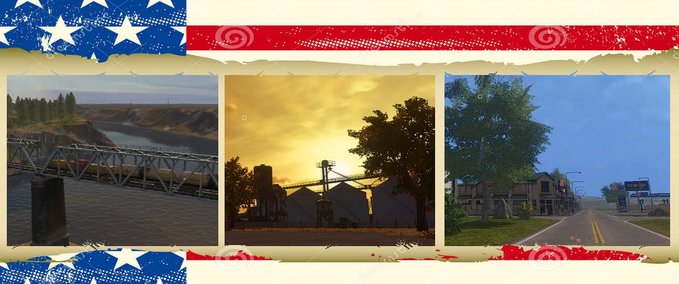 description
featured
Willkommen im Cornbelt
Ihr macht Standardkarten mal schnell in der Mittagspause? 4-fach Karten sind beim Kaffeetrinken abgearbeitet? Ihr habt euch schon immer gefragt, 3-fach bereifter Big Bud wofür?
Für Kilometerliebhaber, Hektarfetischisten, Speedfarmer und Hardcore Courseplay Single Player die eine Möglichkeit suchen alle Gelüste zu befriedigen.
 Wir, das D-S-Agrarservice Team, präsentieren voller Stolz und Freude, die
LS2017 16-fach Cornbelt!
Der Maisgürtel des mittleren Westens der USA.
Mittlerweile zum Grain Belt gewandelt, gibt es natürlich auch auf dieser liebevoll gestalteten und durchdachten Karte nicht nur Mais, sondern auch alle anderen Früchte und Tiere, die standardmäßig vertreten sind.
Einigen vielleicht noch aus den Endtagen des LS15 bekannt, von Vielen geliebt, von anderen gehasst aber immer wieder hervorgekramt, weil selbst 4-fach Karten einfach nicht genug Kilometer bieten, ist sie neu gestaltet und digital remastered worden. 
Nach langen Nächten, internen Tests, Diskussionen, Anregungen und Hektolitern von Bier stellen wir euch hier nun die offizielle  Version der Cornbelt zur Verfügung.
Kommen wir, für alle Wissensdurstigen und Beschreibungsliebhaber, zur Aussattung der Karte und als erstes dem wichtigsten Hinweis. Der Zug ist euer neuer bester Freund!
Es erwarten euch dazu ein zentral im Cornbelt gelegener Haupthof mit:
? dem Hauptsilo was entsprechend 5 Millionen Liter Kapazität bietet und eine Zuganbindung besitzt, die ganzen Mengen müssen ja auch transportiert und zwischengelagert werden
? für alle Liebhaber der gepflegten Erdknollen ist natürlich auch ein Kartoffel/Rübenlager vorhanden, die Amtrak hat sich aber geweigert, Schienen bis dahin zu verlegen, das sei wohl unwirtschaftlich
? einem befüllbaren Saatgut/Düngerlager, denn mal ehrlich, Säcke schleppen ist ja sowas von 90er Jahre retro
? einem Kuhstall und der Schweinemast, es soll ja schon nach Landwirtschaft riechen und nicht so Aussehen als ob wir nur über Felder jagen
? damit die Tierchen nicht Hunger leiden müssen, haben wir keine Kosten und Mühen gescheut und den passenden Futtermischer gleich mit hin gebaut, wir sind ja schon arbeitsscheu und im Zeitalter der Moderne
? und da auch Tiere mal was trinken wollen und wir stapelbare Kisten mit Hopfenblütentee als unpraktisch empfanden, gibt es ganze 2!, ja richtig gelesen 2, nicht 1 und nicht gar keine sondern ganze 2 Wasserentnahmestellen, die sich auf dem Hof befinden und euch 2x20000 l/h kühles, klares…nein nicht Kristallweizen sondern H2O zur Verfügung stellen und dies ist ein dauerhaftes, kostenloses Angebot der Kastor Inc.
? ebenso gibt es eine befüllbare Hoftankstelle da auf seltsame Art und Weise die Maschinen auch Durst haben, Teufelswerk sag ich euch
? und passend für den schnellen Nachschub haben wir zusätzlich noch eine Dieselpumpstation, die per Zug beliefert wird, der geneigte Leser wird merken, "Der Zug, dein Freund und Helfer in der Not" 
? obligatorisch für Freunde der Silage und die Gasschnüffler, ist es uns gelungen eine Genehmigung zum Bau einer BGA zu bekommen, also "Radlader los" oder war das "Klappspaten frei"
Des Weiteren gibt es noch einen kleinen Nebenhof im Norden und dieser glänzt mit:
? der kuschelweichen kleinen Schaffarm für alle die in Wolle machen wollen, also in den Verkauf derselben!
? und weil auch Schafe keine Trockentiere sind gibt es hier ebenfalls eine Wasserentnahmestelle, bescheiden mit nur 10000 l/h aber, die Kastor Inc. ist ja so großzügig, ebenfalls kostenlos
? einem kleinen Silo was nur 3 Millionen Liter bietet, für alle Fruchtsorten, das muss man aber auch erstmal ernten
? und weil ja doch vielleicht das ein oder andere Kilogramm Stroh anfällt, hier beim Strohverkauf werdet ihr es los, natürlich zu absoluten Höchstpreisen…..nicht
Was nutzt das ganze ohne Felder? Eine sehr berechtigte Frage aber auch dafür bietet die Kastor Inc. in Zusammenarbeit mit dem D-S-Agrarservice eine Lösung.
Ganze 65 Felder erwarten die fleißigen Bauern und Bäuerinnen. Von klein, für den Anfang, bis zu überdimensioniert, für den Big Player, es gibt für jeden etwas in seiner Größe und Geschmack. Lasst euch überraschen wie lang doch eine Pflugfurche sein kann, auf einem 601 ha großen Feld!
Last but not least soll euer neuer bester Freund, ihr erinnert euch, noch kurz erwähnt sein. Volle 4 Zugverbindungen geben euch die Freiheit massenweise Güter durch die Gegend zu schienen.
? 2 Verbindungen um Getreide zu sammeln und in die Außenlager zu bringen, ja Freunde, auch sowas haben wir ganz großzügig mit eingebaut
? Special Tipp! (völlig kostenlos), einer dieser Züge kann auch gleich zum Verkaufen am Güterbahnhof im Süden genutzt werden, wer will schon alles mit LKW durch die Gegend karren
? Natürlich gibt es auch was für die Holzwürmer unter euch, 1 Holzzug der euch die Möglichkeit bietet den Norden abzuholzen und alles zum Sägewerk im Süden zu bringen
? Und zu guter Letzt der erwähnte Ölzug mit dem ihr massenhaft Rohöl vom Sammellager zur Raffinerie bringen und den dort produzierten Diesel weiter zum Hof fahren könnt
Na hoppla, da haben wir doch schon zwei Hinweise auf mögliche Produktionen, Sägewerk und Raffinerie. Das hört sich doch schon mal gut an. Dazu haben wir noch…genau, jede Menge Infosymbole an bestimmten Gebäuden die euch auf die jeweils mögliche Produktion von Gütern hinweisen. Alles wollen wir aber dann doch nicht verraten, ist ja auch bald Weihnachten 
? Das solls dann auch gewesen sein mit der Beschreibung, zum Abschluss noch ein paar Hinweise. 
Natürlich ist die CB mit allen Standardgeräten spielbar und voll MP-tauglich. Fehler traten während der internen Testphase keine auf, weder im SP noch MP. Gestestet wurde mit dem immer noch aktuellen Patch 1.4.4 und auf verschiedenen Systemen. Für zukünftige Patches wird keine Funktionsgarantie übernommen, ein Update der Karte wird aber sicher folgen wenn es zu Inkompatibilitäten kommen sollte. Ebenso garantieren wir natürlich keine Funktionsgarantie aller Mods, die von uns verwendeten Mods machten jedenfalls keine Probleme.
Empfehlung für Mods, von uns verwendet und für gut befunden:
? GPS-Mod V5.01 by upsidedown, zeigt erst ab <2000m Feldlänge das Feldende an, ist aber voll funktionsfähig und kann recht einfach geändert werden, Infos wie man das ändert, können erfragt werden, wir legen aber keinen geänderten GPS Mod bei und respektieren upsidedown's klare Ansage das es keine Freigabe für Änderungen geben wird, Fragen nach einem geänderten GPS-Mod werden deshalb gnadenlos ignoriert.
? Custom Road Train Pack by GTX-Mods, passt hervorragend in die Landschaft und geht sogar als 5-fach Roadtrain noch gut vorwärts
? Lely Juno 100 by marhu, wer will denn schon dauernd mit nem Besen durch den Stall rennen?
? BigBud DLC
? AIVehicleExtension
? FarmingTablet + FactoryExtension (ModCompany)
? choppedStraw + CS_DirectSeedingAddon
Beigelegt werden der Kastor  Inc. Trailer und ein VanHool Tanker. Die Karte ist außerdem choppedStraw fähig und seasonMod sowie Farming Tablet ready. 
Wir, das gesamte Betatestteam des D-S-Agrarservice, haben versucht alles zu testen und jeden Fehler zu finden, mit zunehmendem Hopfengehalt im Blut beim Testen, können wir natürlich nicht ausschließen etwas übersehen zu haben. Hier sei unser Tester Manni noch speziell erwähnt der die Karte, in Verbindung mit CoursePlay, bis zum Erbrechen getestet hat. Somit ist auch CP für alle Hardcore SPler in vollem Umfang nutzbar. 
Sollten im MP Probleme mit der Performance auftreten, sucht erst nach störenden Mods oder dergleichen, bei uns lief alles sauber und performant. Die Karte ist im MP sogar aus dem Reich der Mitte getestet worden. 
Wir wünschen euch jedenfalls viel Spaß, viel Erfolg und frohes Ackern.
Dank geht wie immer an alle Leute deren Sachen, Scripte, Gebäude und was auch immer verbaut und genutzt werden.
Im Besonderen an Marhu,Giants,Blacky_BPG,Farmer_Andy,Nick98.1,RC-Devil, el_cid
Raptor5,Joker301069,Weisser,Kastor,kevink98,Robby,Testteam Deutsch-schweizer-Agrarservice,SpieleGemeinschaft derKochLP,Modcompany (Wenn ich wenn vergessen haben sollte tut es mir leid. Einfach melden und ich trag denjenigen nach.) ohne euch wäre die Karte nicht das was sie ist!
Copyright des Textes : Floowy
Karte proudly made by: Kastor, Robby, weisser
>>>>>>>>>Auch wenn es Keiner Liest oder sich dran hält :) <<<<<<<<
Die Map darf nicht in anderen Foren neu oder in geänderter Weise oder mit anderen Link veröffentlicht werden
The map may not be published on other forums or in new or altered as with other link
Strukt?ra negali b?ti paskelbti kituose forumuose arba nauj? ar kei?iamos taip, kaip su kitais nuorod? 
Mapa nie mog? zosta? opublikowane na innych forach lub w nowe lub zmienione, jak z innymi linkiem
Karte nedr?kst public?t citos forumos vai jaun?s vai main?ta t?pat k? citu saiti
A térkép nem lehet közzétenni más fórumokon, vagy új, vagy megváltozott, mint más kapcsolat
MFG Kastor
Credits
Marhu,Giants,Blacky_BPG,Farmer_Andy,Nick98.1,RC-Devil, el_cid
Raptor5,Joker301069,Weisser,Kastor,kevink98,Robby,Testteam Deutsch-schweizer-Agrarservice,SpieleGemeinschaft derKochLP,Modcompany (Wenn ich wenn vergessen haben sollte tut es mir leid. Einfach melden und ich trag denjenigen nach.) 
changes
18 Sep 07:19

Version 1.0.0.0

Do you think this mod should be featured?
Unterstütze den Entwickler!
Jetzt mit PayPal spenden
}