Courseplay
V 3 mod for Farming Simulator 2011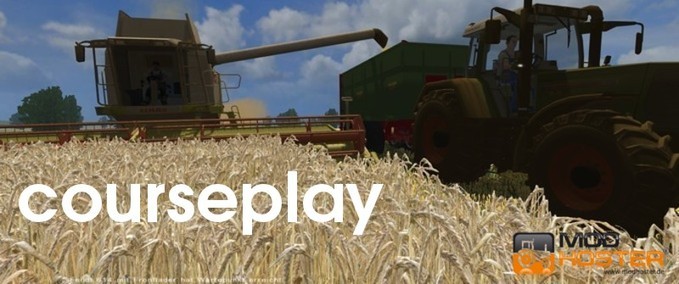 description
featured
Today I am
finally got me once again deal a few hours with the finishing touches on course play. The version 3.0 is now stable so far and worked in the test class.
the changes in detail: changes since version 2.2 / 2.4
Full multiplayer capability: Course Play is now in every vehicle in multiplayer courses available and stored with up to 10,000 waypoints can be transferred to all players in multiplayer. (However, can take a while depending on the size of a few minutes - a total of 5000 waypoints in the test lasted about 30 seconds)
New mode: Drescher drives himself to Unload

combines can now automatically go to hangers on the sidelines. For this you have a course with the thresher of a waiting point retract contains. This point is the point of waiting is over loaded onto the trailer. Be discontinued after the overcharge has to point the recording. Simply set the Drescher on the field, turn on the workers and ONLY THEN is used to set Abfahrhelfer.
transfer vehicle tipping over in the charging mode automatically

Brent Avelanche, Hilken, Agroliner TUW & Co., HAWE SUW 5000, Inner spell Perard 25, Kverneland Taarup Shuttle & Co. charge on the transfer point automatically. The Taarup goes even its structure and high back down.
AlternativeTipping of SFM is fully supported
turning maneuvers in the combined mode has been redesigned
A * Star pathfinding

downhill on the field trying not to drive through the fruit. It will automatically search for a detour around the fruit. If a way is found of the use of the downhill runs and around the fruit. (This feature is still experimental)
the store of rates increases are not out of the vehicle
field mode supports other balersYou can
in the settings, the max. Select speed between the "max speed" and "retracted speed." The first is the old setting, determines the course play on the road to driving speed. The second option is always used, the speed that was used when entering the course.
can be defined on the last page of the settings, the holding time at the holding point. Is it to "0" holding point waiting for the skier is forwarded to it. Otherwise, it waits for the specified time on the waiting point and then continues automatically. (Ideal for MapWeightStation)
support of DLC2 BGA - Full silos no longer be filled by course play but ignored
Credits
Hummel (modhoster.de) / Lautschreier / Wolverin0815 / Bastian82

Do you think this mod should be featured?
}