Village Molokovo
V 0.1.8.6 mod for Farming Simulator 17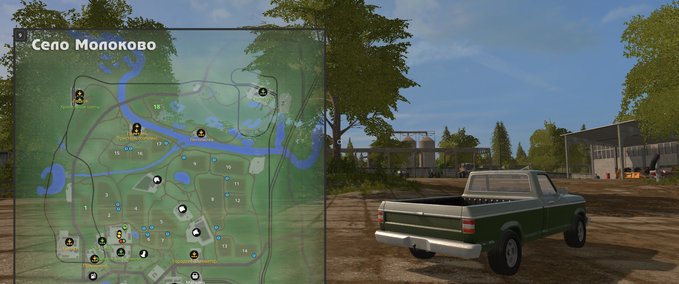 description
featured
The map is based on the village Molokovo located in the Leninsky district of the Moscow region. The village is named after the native citizen Vasily Molokov, famous arctic pilot, participant of air expiditions to the North pole who rescued Cheluskin ship north expedition.
A map with small fields for a calm single game ... no production, no dirt and other scripts. All in default.
Map adaptive to Season Mod and Chopped Straw.
Credits
Autor: KonstantinVU (otrip.ru)
Test: Brigada DVAZ
Support map: molokovo@otrip.ru
changes
17 Jan 15:05

Version 0.1.8.6

- storage of hay and straw is added;
- near the dam, it was possible to pour water out of the trailer;
- the price for chips has been slightly reduced;
- a marker "school", where you can sell eggs;
- on the eastern side of the 18th field, the fence has been removed;
- there were grounds for installed objects;
- season mod: additional grass and bushes on the map turn yellow, grow waxy and green;
- season mod: the river and the lake freeze (water can be taken in water towers);
- season mod: the point of sale "Pier" in winter does not work;

05 Dec 12:31

Version 0.1.8.2
Files
Do you think this mod should be featured?
}