driveControl
V 4.10 mod for Farming Simulator 17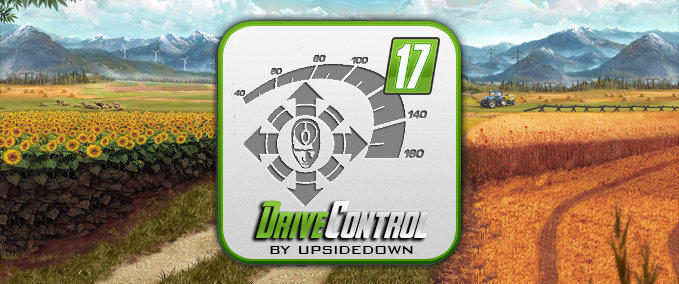 description
featured
Der driveControl-Mod erweitert nun auch den LS17 modular um viele kleine Funktionen wie einer Wendeschaltung und erweiterten Funktionen für den CruiseControl. Der Mod besteht aus Modulen, die jeweils einzeln zu- und abgeschaltet werden können.
Dadurch, dass Giants doch die eine oder andere Funktion in den LS17 direkt übernommen hat könnte ich das Ganze etwas aufräumen.
In der V4.0 pünktlich zum Release sind im driveControl folgende Module enthalten:
·

        

shuttle: Shuttle-Modul (Wendeschaltung)

·

        

softGas: Verbessertes Gas-/Bremsen für Tastaturfahrer

·

        

cruiseControl: Erweiterte Funktionen für den Tempomaten

·

        

implementControl: Zusätzliche Bedienmöglichkeiten für Anbaugeräte (kein Geräte durchschalten notwendig!)

·

        

fourWDandDifferentials: Allrad- und Differentialschaltung

·

        

showNearestFillLevel: Füllstandsanzeige für das Nachbarfahrzeug

·

        

pipeCam: Zusatzkamera für Überlader/Drescher/Häcksler
Nicht mehr im driveControl vorhanden (und warum nicht):
·

        

ManMotorStart: Im LS17 integriert

·

        

ManMotorKeepTurnedOn: Im LS17 integriert

·

        

GasAndGearLimiter: Helfer im LS17 lässt sich über Tempomat einregeln, fürs manuelle Fahren gibt es den Begrenzer im cruiseControl sowie das softGas-Modul

·

        

Hourcounter: Im LS17 integriert

·

        

SensibleSteering: Im LS17 integriert (Totzonen für die einzelnen Achsen lassen sich endlich im Menu festlegen)

·

        

HandBrake: Im LS17 integriert, wenn auch nur automatisch

·

        

InDoorSound: Im LS17 integriert

·

        

DirtModule: Hoffentlich im LS17 besser gelöst und nicht mehr notwendig

·

        

Camera: FOV wird jetzt zentral eingestellt, ergo: Im LS17 integriert

·

        

FruitDestruction: Von Giants als "Realismus-Mod" direkt mit released, ergo: Im LS17 integriert

·

        

FreeSteering: Entfällt weil anscheinend überholt

·

        

groundResponse: Das ist das einzige Modul, das ich gerne noch konvertiert hätte, was aber in der Kürze der Zeit nicht möglich war.
Man könnte fast meinen Giants hätte sich den driveControl tatsächlich mal angeschaut.
Module Ein-/Abschalten und konfigurieren
Das findet alles in der driveControl_config.xml statt. Diese liegt im selben Verzeichnis wie die log.txt (wer nicht weiß wo die liegt: Ganz schnell rausfinden ;)) und wird von driveControl beim ersten Start des Mods dort angelegt.
Hier ist der gesamte Inhalt der Datei (V4.00), ich hoffe das ist hinreichend selbsterklärend:
<driveControl>
    <Modules>
        <Shuttle>true</Shuttle>
        <FourWDandDifferentials>true</FourWDandDifferentials>
        <CruiseControl>true</CruiseControl>
        <ShowNearestFillLevel>true</ShowNearestFillLevel>
        <PipeCam>true</PipeCam>
        <ImplementControl>true</ImplementControl>
        <SoftGas>true</SoftGas>
    </Modules>
    <softGas>
        <maxGasOnModifier>0.300000</maxGasOnModifier>
    </softGas>
</driveControl>
Tastaturbelegungen finden wie gewohnt im Menü (oder wers lieber mag der inputBindings.xml) statt. Alle driveControl-Eingaben sind durch ein vorangestelltes "dC: " gut erkennbar.
Wendeschaltung (Shuttle-Modul)
Mit diesem Modul wird das Gaspedal zum Gaspedal und das Bremspedal zum Bremspedal – auch beim Rückwärtsfahren! Die Fahrtrichtung kann man standardmäßig mit der Leertaste wechseln und bekommt diese durch einen kleinen grünen Pfeil angezeigt.
Mit diesem Modul lässt sich der Tempomat auch rückwärts verwenden.
Zusätzlich kann man sich auch Tasten für Vorwärts- und Rückwärts getrennt belegen. Werden diese mehrfach in eine Richtung betätigt schalten sie zudem den Tempomaten zu.
Dieses Modul lässt sich zusätzlich zum Deaktivieren des ganzen Moduls auch fahrzeugweise an- und abschalten, indem man etwas länger die Leertaste drückt.
SoftGas-Modul
Tastaturfahrern wird mit diesem Modul ermöglicht sanft Gas zu geben und zu Bremsen. Zusätzlich zu W oder A einfach Shift(links) drücken, dann wird das entsprechende Pedal nur zu 30% betätigt. Das macht sich z.B, für Frontladerarbeiten ausgesprochen gut. Den Wert kann man in der xml nach Belieben einstellen (maxGasOnModifier).
cruiseControl
Mit diesem Modul bekommt der Tempomat einige neue Betriebsmodi spendiert. Diese lassen sich mit Shift-3 durchschalten. Die zusätzlichen Modi sind:
·

        

Stop bei 100% Füllstand

·

        

Stop bei 0% Füllstand.

·

        

Parallelfahren

·

        

Geschwindigkeitsbegrenzer
Während die ersten beiden selbsterklärend sein sollten ein paar Worte zu den beiden letzten:
Im Parallelfahrmodus passt der Tempomat die Geschwindigkeit so an, dass ein sauberes Parallelfahren zum nächstgelegenen Fahrzeug möglich ist. D.h. Lenken muss man noch selber (oder nimmt dafür GPS). Welches Fahrzeug das ist wird beim Einschalten des Parallelmodus festgelegt und kann durch Durchschalten des Tempomatmodus oder durch Drücken von STRG-3 neu auf das nächstgelegene Fahrzeug festgelegt werden. Den Längsabstand bei laufender Regelung kann man durch Drücken von "Tempomat hoch" (2) und "Tempomat runter" (1) einstellen. Einfach beim Häckseln oder ähnlichen Überlademanövern mal ausprobieren.
Im Modus "Geschwindigkeitsbegrenzer" wird der eingegebene Wert auch bei ausgeschaltetem Tempomaten als Begrenzer aktiv. Hierdurch kann man beim Selberfahren die maximale Geschwindigkeit des Fahrzeuges heruntersetzen. Das ermöglicht auch ein angenehmes Fahren bei reduzierter Geschwindigkeit mit der Tastatur, ohne ständig auf der W-Taste rumhämmern zu müssen.
implementControl: Anbaugeräte bedienen
Achtung: Die Tastenbelegung für dieses Modul ist nicht vorbelegt! Das muss jeder für sich selber konfigurieren!
Mit diesem Modul stehen mehrere belegbare Inputs zur Verfügung um die einzelnen Anbaugeräte separat ansteuern zu können. Hiermit können ein hinteres und ein vorderes Anbaugerät ein- und ausgehoben sowie ein- und abgeschaltet werden, ohne dass man hierfür mit G die Geräte durchschalten muss.
Die zugehörigen Inputbindings sind:
·         driveControlImplementFront
·         driveControlImplementBack
·         driveControlImplementFrontOnOff
·         driveControlImplementBackOnOff
Für mich im Übrigen eines der wichtigsten Module – wenn man sich das auf Knöpfe am Lenkrad legt man nahezu komplett auf dem Feld arbeiten ohne einmal zur Tastatur greifen zu müssen.
Allrad&Differentialsperren
Dieses Modul verändert die Differentiale in allen 4x4-Fahrzeugen. Die Giants-eigenen Wischiwaschi-Differentiale werden in den Schleppern durch technisch plausibles Verhalten ersetzt. Standardmäßig laufen alle modifizierten Fahrzeuge mit Hinterachsantrieb. Zuschalten der Vorderachse, also des Allradantriebes, funktioniert über SHIFT-4. 
Die Achsdifferentiale sind nicht mehr selbstsperrend. Sperren könnt ihr diese jetzt vollständig mit SHIFT-5 (Vorderachse) und SHIFT-6 (Hinterachse).
Das Fahren mit diesen Möglichkeiten muss man - wie in echt auch - etwas Üben.
Wem die alten Halbautomatik-Differentiale besser gefallen: Kein Problem! Modul ausschalten, fertig.
showNearestFillLevel: Füllstandsanzeige für das Nachbarfahrzeug
Diese Modul zeigt zusätzlich zum eigenen Füllstand den Füllstand des nächstgelegenen Fahrzeuges an.
pipeCam
Mit diesem Modul kann man durch Drücken und Festhalten der Taste AltGr einen Blick von oben auf den Überladeapparat werfen, falls das aktuelle Fahrzeug so etwas hat (Häcksler, Drescher, Überladewagen, Roder etc).
Ende Modbeschreibung…
…und noch etwas in eigener Sache:
Der Grund warum ich mit Modden und insbesondere dem Skripten angefangen habe, war der Wunsch aus der einzigen verfügbaren Plattform - nämlich zu der Zeit dem LS13 und später dem LS15 - eine halbwegs interessante Simulation zu machen. Es hat mich immer wieder sehr gefreut welchen Anklang diese kleinen oder auch größeren Eingriffe bei all denen gefunden haben, die sich kein Arcarde-Game, sondern eine Simulation, die zumindest ein wenig mit echter Landwirtschaft zu tun hat gewünscht haben. Das Ergebnis ist und bleibt noch weit vom Ziel entfernt, aber immerhin schien die Richtung zu stimmen.
Mit Cattle and Crops haben wir endlich eine echte Alternative für genau die Zielgruppe, für die ich bislang Mods gemacht habe, in Aussicht. Es ist kein Geheimnis, dass ich dieses Projekt schon relativ lange mit Rat&Tat begleite.
Um euch bis zum Beginn des Early Access nicht hängen zu lassen werde ich noch für den LS17, soweit das vernünftig möglich ist, meine Mods konvertieren. Freigaben für die Veröffentlichung von "Wildkonvertierungen" wird es von mir nicht geben, genau so wenig wie neu entwickelte Mods.
In diesem Sinne: "Frohes Ackern" und "See you on the other side!" :)
Credits
Modell: -
Textur: -
Script: upsidedown
Idee / Konzept: upsidedown
Tester: -
Sonstige: artwork Eribus
changes
13 Nov 16:13

Version 4.10

neue Module:
• motorShow: Optische Anzeige Motorstart. Ausserdem kann das automatische Abschalten deaktiviert werden
• Inching: Vormals ein separater Mod jetzt als dC-Modul
• FreeSteering: Auf vielfachen Wunsch zurück – macht das automatische Rücklenken abschaltbar
• variGear: Verbesserung des stufenlosen Getriebes für kleine Fahrgeschwindigkeiten

28 Oct 23:30

Version 4.03

HUD-Skalierung und Aspect-Ratio gefixed (Positionierung der Icons)
Probleme mit Anbauhackern etc gefixed

26 Oct 20:46

Version 4.02

diverse Fixes
Wendeschaltung komplett neu geschrieben
save-hack aus LS15 für Dedi deaktiviert

25 Oct 23:49

Version 4.01

Fix für die Lokomovativen
l10n (hoffentlich) auch gefixed

25 Oct 22:51

Version 4.00

Do you think this mod should be featured?
Unterstütze den Entwickler!
Jetzt mit PayPal spenden
}