Eicher EA400 Konigstiger
V 1.0 mod for Farming Simulator 19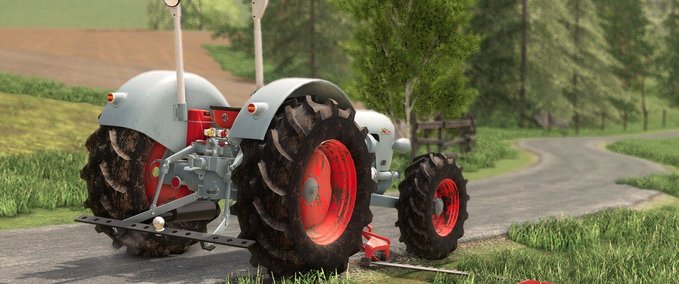 description
A beautiful tractor from Eicher! This is a 3 cylinder Eicher EA400 King Tiger.
Manufacturer: Eicher
Model: EA 400 King Tiger
Power: 40-80PS
Speed: 28km / h
Price: € 10,000
Weight: 2150kg
Diesel quantity: 38-58 liters
This Eicher comes from the LS13 from Modelleicher which zinoz_lp converted to the LS19 and I installed an all-wheel axle.
Many thanks to Modellicher and zinoz_lp for the release.
Simple IC is required!
Simple IC can be found here: https://github.com/modelleicher/FS19_simpleIC
There is an optional knife bar for the Eicher.
The knife bar can be found here: Eicher knife bar

Information about the Eicher (in real):
The Eicher EA400 King Tiger was built 1050 times by Eicher.
This Eicher came from the "Predator Series" model series and was built from 1963 to 1968.
The engine was an EDK3 3-cylinder / 4-stroke in-line diesel engine with 2944 cm³ displacement and with direct injection and air cooling, as well as with oil cooling.
The Eicher had an 8/4 gearbox with a top speed of 28km / h.
The mod (Eicher EA 400 Königstiger) may only be distributed with original DL-Link!
Credits
Modelleicher, Zinoz_lp, Oberfranken_modding
Files
Empfehlungsrate
-/-
noch nicht genug Stimmen
Do you think this mod should be featured?
}