Excel for the field yield of Mecklenburg Vorpom...
V 1.1 mod for Farming Simulator 19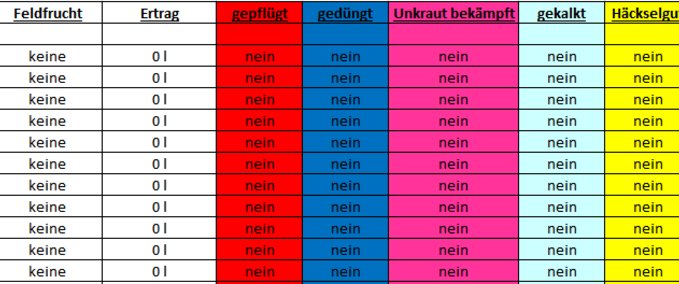 description
Auf userwunsch eine excel für die Mecklenburg Vorpommern 1.0
Mit dieser kleinen excel-Tabelle habt ihr die Möglichkeit euch den Ertrag eines Feldes vor der Ernte auszurechnen und durch 
Eingabe des aktuellen Preises den Erlös zu errechnen.
Dazu gibt es noch die Möglichkeit den Häckselgutertrag(ja/nein in der Spalte "Häckselgut") zu berechnen.
Ihr wählt im der Spalte Feldfrucht die richtige Frucht aus, dann erscheint in der Spalte Ertrag der Grundertrag. In weiteren Spalten kann dann ausgewählt werden, ob das Feld gepflügt, gedüngt(1x oder 2x), gekalkt und von Unkraut befreit wurde.
In der Spalte Preis wird der aktuelle Preis aus der Preisübersicht manuell eingetragen und unter Ertrag erscheint der €-Betrag der dem Verkaufspreis entspricht.
Viel Spaß damit.
Hochladen auf anderen Seiten und unter anderem Link verboten.
mfg
Trent
Credits

Idee / Konzept: Trent
Tester: Trent
changes
29 Jun 05:55

Version 1.1

Überschrift richtig gestellt

20 May 20:49

Version 1.0
images

by Trent
ago about 1 year

Files
Empfehlungsrate
-/-
noch nicht genug Stimmen
Do you think this mod should be featured?
Unterstütze den Entwickler!
Jetzt mit PayPal spenden
}