Farmer Town 17
V 1.0.2 - Winter Edition 1 mod for Farming Simulator 17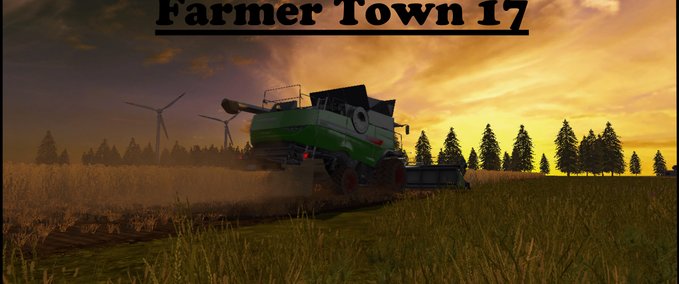 description
Farmer Town 17 is a new invented map in Farming Simulator 17!

This map is not intended to be a real life environment
but there are places that are based on real environments.

There are all kinds of animals that you can find in normal games as well
There are many buildings to be found here, which are also on the normal
Farming Simulator 17 maps.

There are no gold nuggets on this map, but probably
these will be added in a later version of the map!

There are 27 fields to farm, where 3 fields are bought from the beginning
and one available, four forests for forestry, one
big BGP with five silos, one sale for wood, three sellpoints for
Chicken eggs, an animal dealer to buy animals, a vehicle dealer
in the village, a gas station, in the middle of the map in the village, two small islands
next to the main island, which can be reached by bridge, on the northern side
Island there is a field to buy, two houses and some trees on the
sinful island, which is connected by a strip of land with the mainland
you find two fields, the point of sale for wood, some
Trees and halfway of the strip of land you will find a small farm where
you can sell grain and a few meters further back you will find two
Residential houses, as well as two small fields.

It will need a mod and indeed the "Map Animation Trigger Mod" ( https://ls2017.com/farming-simulator-2017-mods/scripts/animation-map-trigger-v-1-1/ ), without this
Mod can not open the gates to the sheep and pigs to the
To fill the water tank of the respective animals, one can use the entrance gates of the
Chicken enclosures do not open, making a more realistic picking of chicken eggs
You can get to the barrier, which is a way behind the gas station
a washing machine does not open and you can see the lights of the
Do not turn lighthouse.

Contributed to this card have:
Y4nn1k_24, the main modder of the map
Jonas Z., who tested the map and helped with the idea
VarTrans, who tested the map

The people of Farmer Town hope you enjoy playing!
Credits
Modell: Y4nn1k_24, Giants Software (FS17 Objects)
Textur: Y4nn1k_24, Giants Software (FS17 Objects)
Script:Giants Software (FS17 Objects)
Idee / Konzept: Y4nn1k_24
Tester: Y4nn1k_24, VarTrans, Jonas Z.
Sonstige: Y4nn1k_24
changes
02 Dec 11:42

Version 1.0.2 - Winter Edition 1

This is the same Map from the 1.0.2 Update, but there are Winter decoration lights added all over the map. This is the first Winter Light Decoration Edition of this Map, we will upload 2 or 3 more Winter Editions of this map.

For More realistic winter gameplay you can use the Season Mod (Season Mod Download here: https://www.farming-simulator.com/mod.php?lang=de&country=de&mod_id=79288&title=fs2017 ) for better Lights you can use the Light Addon (Light Addon Download here: https://farming-simulator.com/mod.php?lang=de&country=de&mod_id=53564&title=fs2017 )

Enjoy the Winter theme!

23 Nov 14:41

Version 1.0.2 - Removed Useless Files

There would have been some files that did not work, so the map was over 1.1 GB in size and so only caused a longer download ... now these files have been removed and the map has only a size of about 0,95 GB, so it is 0.15 GB lighter.

11 Nov 11:18

Version 1.0
images
Files
| | |
| --- | --- |
| checksum: | 99fa198fd324f86c3b4fc4136e97df4c |
| Version: | 1.0.2 - Winter Edition 1 |
| multiplayer ready? | yes |
| Author: | Y4nn1k_24 |
| price in shop: | LS |
| name in shop: | Farmer Town 17 Version 1.0.2 Winter |
| description in shop: | Baue einen großen Bauernhof aus, verkaufe Getreide, steige in die Forstwirtschaft ein, halte viele Tiere auf deinem Hof und genieße die Sonnenuntergänge über dem weiten Meer! |

Empfehlungsrate
-/-
noch nicht genug Stimmen
Do you think this mod should be featured?
V 1.0.2 - Winter Edition 1
V 1.0.2 - Removed Useless Files
}