FarmingPlay22
V 1.3.9.7 mod for Farming Simulator 22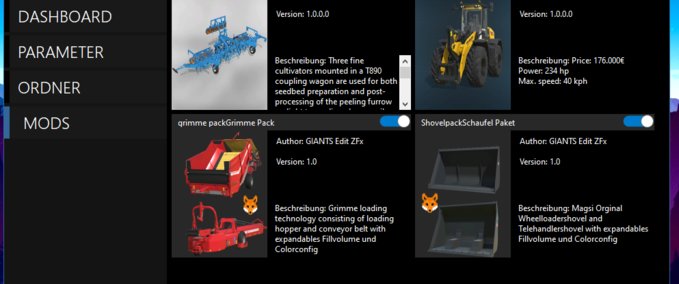 description
If you like our work then we would be very happy about a star rating. Also about a recommendation with "Yes" or "No" we would be very happy
.
Welcome to FarmingPlay22,
What is FarmingStudio21?
FarmingPlay22 is a game launcher for the LS22 that offers some additional features such as.
- Mod management
.
- Folder management
- Game Settings
- Download Manager
Bids.
Available languages
German, English, Français
How do I install it?
Unzip the zip file preferably in a folder (I recommend 7-Zip Just right click on the file there -> 7-Zip -> Unzip To...
Then click on "FarmingPlay22 - Setup.exe" and follow the instructions of the setup.
Once the installation is complete, the launcher will open and the setup will begin.
The setup
0.1. Select your desired language
.
1. First select your LS22 installation directory this is for example "C:\Program Files (x86)\Farming Simulator 2022"
.
2. Then select your MyGames directory, this is for example "C:\Users\%name%\Documents\My Games\FarmingSimulator2022"
.
3. Then select your log file, it will be in the SAME folder (if not CHANGED) as in 2. (i.e. in the MyGames folder)
.
4. choose your application, if you have LS22 via Steam click YES on the question, otherwise just choose the shortcut to start LS22.
.
Current problems
None
Also interesting
HoT-Community: Show Here
VirusScan: [100% VirusFree! Siehe Selbst!​​​
And leave feedback there :3
We hope you have fun with our program
Credits
Code & Design: Nico.B / SimuTools
Übersetzung: Nico.B / SimuTools
Icons: Daniel.B
Testing: HoT-Team
Sonstiges: HoT-Team
changes
01 Aug 22:04

Version 1.3.9.7

?[NEW] ModUpdater Sucht nun beim Start nach Aktualisierungen
[ÄNDERUNG] Mod Bereich Optimierungen
[ÄNDERUNG] Mod Updates werden nun Angekündigt. eine Weiterleitung zum Browser erfolgt noch.

[INFO] Der Stresstest der Datenbank wurde bis zur Nächsten Version Verlängert aufgrund eines Fehlers im Script. Der ModUpdater lässt sich nach wie vor in den Einstellungen Deaktivieren.

25 Jul 20:25

Version 1.3.9.6

[ÄNDERUNG] DESIGN ANPASSUNGEN
[NEU] ModUpdater
(Der Updater ist momentan nur im Stresstest, Update Informationen wird es erst mit dem Nächsten Update geben.)
(Wenn ihr den Server Abgleich nicht Wünschst könnt ihr den ModUpdater in den Einstellungen Deaktivieren)

21 Jul 22:05

Version 1.3.9.5

[HOT-FIX] Eco-Verzeichnisse ließen sich nicht Bearbeiten
[CHANGE] bei Eco-Verzeichnissen wird nun die Anzahl an Mods angezeigt, statt die Anzahl des Mod Ordners.
(Ich Bitte um Entschuldigung für den Fehler)
[Sonstiges] Kleine Fehlerbehebungen und Anpassungen

18 Jul 21:54

Version 1.3.9.4

[NEU] Eco-Verzeichnis
[NEU] Eco-Editor
[NEU] Eco-Sync
[FIX] Form Friert ein
[CHANGE] Bei "Spielen" werden nur noch Vorhandene Savegames angezeigt
[CHANGE] Update-Hinweis wird bei FarmingStudio22 ignoriert (Da AutoUpdater)
[CHANGE] Parameter wurden neu Sortiert
[CHANGE] Version wurde in FS und FP unterteilt (FarmingStudio),(FarmingPlay)

Tutorial der Eco-Funktion: https://youtu.be/STLciSon9pU

15 May 15:50

Version 1.3.9.3

[BEHOBEN] Sync-System wurde Überarbeitet
[SONSTIGES] Einige Kleine Fehler wurden Behoben

12 Apr 14:24

Version 1.3.9.2

[BEHOBEN] Fehler in der Synchronisation.
[BEHOBEN] Fehler bei der Änderung der Ordner.
[BEHOBEN] Kleine Fehler und Anzeige Fehler.

15 Mar 00:06

Version 1.3.9.1

?[NEU] Lösch Optionen bei der Ordner Verwaltung Hinzugefügt
- Ordner + Eintrag Löschen
- Eintrag Löschen
[NEU] Update Hinweis bei neuer Version Hinzugefügt
[ÄNDERUNG] Fehler Behoben das Ordner nicht Bearbeitet werden konnten
[ÄNDERUNG] Fehler Behoben das die Sync nicht richtig Funktioniert
[ÄNDERUNG] Fehler Behoben weswegen das Spiel nicht Startbar war
[ÄNDERUNG] Fehler Behoben das Ordner nicht Aktiviert werden konnten

12 Mar 16:55

Version 1.3.9.0

[ÄNDERUNG] Mod Verwaltung lädt nun besser und mehr als 400 Mods
[ÄNDERUNG] Fehler in der Ordner Verwaltung Behoben
[SONSTIGES] Einige Fehler in der Oberfläche und im Code wurden Behoben
[SONSTIGES] Vorbereitungen für die 1.4

03 Mar 13:27

Version 1.3.8.9

[ÄNDERUNG] Mod Synchronisation überarbeitet
[ÄNDERUNG] Ordner Verwaltung verbessert
[SONSTIGES] Kleine Fehler Behoben und Icons angepasst

24 Feb 21:04

Version 1.3.8.8

[BEHOBEN] Ordner konnten nicht Korrekt Hinzugefügt werden bei einer Höheren Anzahl als 10.
[ÄNDERUNG] Aussehen angepasst.
[SONSTIGES] Kleine Fehler Behoben

17 Feb 22:38

Version 1.3.8.7

[ÄNDERUNG] Parameter Bereich wurde Verbessert
[NEU] Cheats wurden Hinzugefügt
[ÄNDERUNG] Einige Fehler wurden Behoben

22 Jan 18:54

Version 1.3.8.5

- Fehlerbehebung der Mods Ansicht
(Ordner und andere Dateien werden jetzt Ignoriert)

- Fehlerbehebung in der Ordner Verwaltung
- Sonstige Fehler Korrekturen

07 Jan 22:14

Version 1.3.8

[Hinzugefügt] Vorbereitungen für Eco-Mode
[Behoben] Server Synchronisation Behoben
[Behoben] Ordner Anzahl wird nun Richtig geladen
[Änderung] Mod Ordner Pfade wurden Angepasst aufgrund einer System Erweiterung.
(Ordner Details sollten Automatisch Verschoben werden)
[Änderung] NotifyManager durch eigenes System ersetzt.

Danke an @[LSMT]19BlueDragon83 fürs Testen.

26 Dec 16:44

Version 1.3

[Hinzugefügt] Dedicated Server Sync (Anleitung liegt bei) [BETA]
[Hinzugefügt] Update Überprüfung bei Spielstart (Server Mods wenn Vorhanden) (Einstellbar in den Einstellungen)
[Behoben] Fehler der bei manchen zu Startproblemen geführt hat
[Änderung] Passwortbox und Codebox nutzen nun einen Passwort Char

:!: Die Serverdaten werden NICHT Verschlüsselt gespeichert :!:

19 Dec 11:26

Version 1.2.2

- Abfrage bei Defekter ModDesc Hinzugefügt.
- Fehlende Abfrage bei der Ordner Verwaltung Hinzugefügt.

26 Nov 17:31

Version 1.2

- Steam Start Behoben
- Mods Laden sollte wieder Funktionieren
- Ordner Verwaltung behoben
- Einige weitere Probleme Behoben

Hinweis: Die Speicherung wurde wieder Fixiert, es kann sein das eure Mod Ordner neu Eingetragen werden müssen

23 Nov 14:10

Version 1.0
Files

Do you think this mod should be featured?
Unterstütze den Entwickler!
Jetzt mit PayPal spenden
}