Fendt Farmer 310-312 LSA Turbomatik
V 1.4 mod for Farming Simulator 19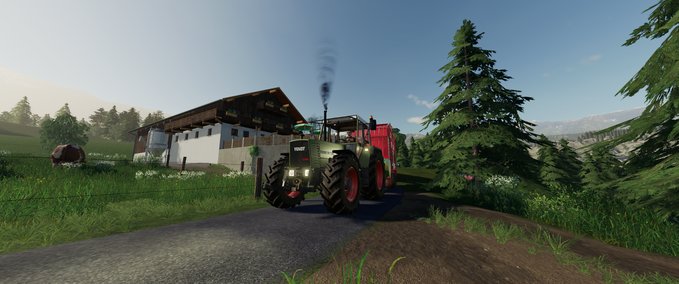 description
The rim color can be changed.
The tractor has many work lights installed
There are configuration options on the engine (310 hp: 115 maximum speed 43/311 hp: 120 speed 47/312 hp: 130 speed 53)
There are configuration options for the rotating beacons (no RL / left RL / right RL / left and right RL)
There are configuration options for the front mudguards (they can be removed)
You can attach a front loader to the tractor (you can also dismantle the console)
The tractor has front hydraulics and a front PTO
The sound comes from the origina
GPS Compliant Additional Guidelines Required Mod Link:
https://www.farming-simulator.com/mod.php?lang=de&country=de&mod_id=140328&title=fs2019
To open the windows and doors you need Smiple IC LINK: https://www.modhoster.de/mods/simple-ic-easy-interactive-control
Dynamic hoses
Decorations installed
The mod is multiplayer ready
Log is error-free
New version 1.4
Please feel free to write a feedback as a comment.
If there are bugs or you have suggestions for improvement / wishes, please also write a comment.
Credits
Modell: Fendt Farmer 310/312
Textur: CSS, BB Modding, bau_justin_99
Script:
Idee / Konzept: 
Tester:
Sonstige: 
changes
25 Feb 10:54

Version 1.4

Wieder bugs entfernt.
Paar verbessungen vorgenommen
mod jetzt komplett ohne fehler in der log

22 Feb 23:11

Version 1.3.1

Kleine Bugs und Fehler die mir aufgefallen sind wurden geändert und oder entfernt

21 Feb 22:05

Version 1.3

Warnugs aus der log entfernd
Fehler mit Schutzblech configuration entfernt
GPS funktion hinzugefügt
Deko hinzugefügt

19 Jan 09:40

Version 1.2

Original sound Hinzugefügt
311 hat nun das textur model vom 312 und nicht mehr vom 310

15 Jan 23:28

Version 1.1.0

Fendt 311 Hinzugefügt
Arbeitscheinwerfer Hinzugefügt
Farbwahl Hinzugefügt
Lichtfarbe Geändert
Schutzblech konfiguration Hinzugefügt
Rauchfarbe Geändert
Textur bug gefixt
Shop animation gefixt

15 Jan 21:54

Version 1.1
Empfehlungsrate
-/-
noch nicht genug Stimmen
Do you think this mod should be featured?
}