0 Downloads today
1,360 Downloads total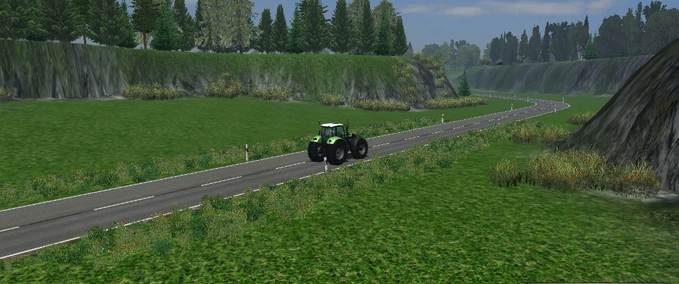 FlexFeldMap v 1.0
Die Karte wurde komplett neu aufgebaut mit HD-Texturen, Standard Früchten, Rinderzucht, BGA, Vieh- und Milchverkauf
 
Bitte erst die Beschreibung lesen, dann Bilder betrachten und dann Kommentieren! Und vor dem Kommentieren vielleicht noch ausprobieren !Danke.
Auf dieser Map gibt es 11 große Felder die jedoch noch in kleinere Felder unterteilt sind so daß daraus je nach Bepflanzung bis zu 34 Felder entstehen können !
Die Unterteilungen bleiben fix, werden also nicht vom Grubber entfernt !
Ich habe diese map gebaut da ich neben den Großmaschienen auch mal gerne mit alten und kleineren Maschinen arbeite.
Ihr started als Besitzer eines mittelgroßen landwirtschaftlichen Betriebs, dessen Fuhrpark teilweise veraltet ist. Dafür sind aber schon einige Felder bestellt, es gibt genügend Rinder die ihr per LKW an den
Schlachthof liefern und zu Geld machen könnt.
Verkaufsstellen für eure Produkte:
Molkerei,nimmt Mais Weizen  und Gerste; dort müßt ihr auch eure Milch selbst abliefern
Mühle, nimmt alle Standardsorten
Lagerhaus, nimmt alle Standarsorten, dort könnt ihr Josera Kraftfutter für eure Rinder kaufen und es ins Hofsilo abladen
Schlachthof für das Rindvieh
BGA, für Mist Gülle,Gras Häckselgut usw.
Beim Kuhstall ist ein Silo mit Heady´s BGA Silo verbaut, wo ihr das silierte Material entnehmen könnt und an eure Kühe im Stall verfüttern könnt.
Dazu benötigt ihr folgende extra mods:
http://planet-ls.de/board/index.php?page=Thread&threadID=12960
dort die BGA Silo V2 wenn ihr die Silage auch verdichten wollt ansonsten reicht die V1.4,
Ebenfalls von Planet-ls.de eine Siloschaufel mit der ihr das Silo entladen könnt.
Anhänger für Milch, Josera und Gülle sind in der Zip Datei enthalten, wenn ihr weitere Fahrzeuge benötigt : es funktionieren die von der Aich map ! also einfach hier bei modhoster im Suchfeld Aich eingeben!
Da die map komplett neu aufgebaut wurde und dies eine RC Version ist kann es sein dass noch Fehler vorhanden sind. Für sinnvolle Kommentare bin ich deshalb dankbar und an alle Schwachkommentierer:
spart es euch und mir !
Die map01.i3d hat trotz aufwendiger HD-Texturen nur 36 MB und sollte deshalb auch problemlos auf LowPC´s funktionieren !
 
Der mod darf  auf anderen Seiten veröffentlicht werden so lange der ORIGINAL LINK verwendet wird!
Es dürfen keine Teile aus diesem mod unter anderem Link veröffentlicht werden !!
The mod may be published on other sites as long as the ORIGINAL LINK will be used!
There may be no parts of this mod publicated !
Le mod peut être publié sur d'autres sites aussi longtemps que le lien original sera utilisé!
Il peut y avoir aucune pièce de ce mod publicated!
O mod pode ser publicado em outros sites, desde que o link original será usado!
Pode não haver partes deste mod publicated!
Mod moga byc publikowane na innych stronach tak dlugo, jak oryginalny link bedzie uzywany!
Nie moze byc czesci ten mod publicated!
A mod tehetok közzé más oldalakon, amíg az eredeti link fogja használni!
Lehet, hogy nem részei ennek a mod publikált!