Ford 40 Series
V 1.2.0.0 mod for Farming Simulator 19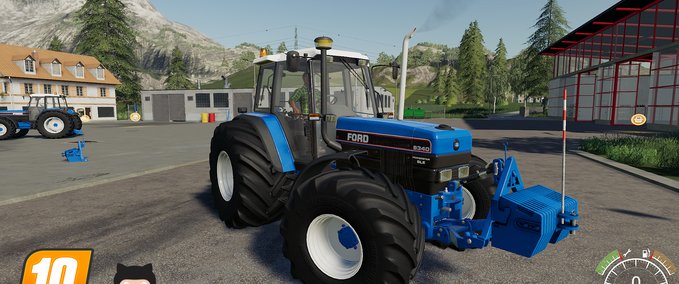 description
featured
Hello,
here the Ford 40 series for FS19
Model is identical to the New Holland 8340 and has been changed accordingly.
Mod is LOG FREE!
features:
Räderconfig
Normal, normal with wheel weights, wide, wide with wheel weights, twin tires rear,
Nursing tires, municipal tires
Front loader console Config
Motors Config
5640 - 75hp
6640 - 85hp
7740 - 95hp
8340 - 125hp
Motor data adapted according to the power.
Some xml parameters have been adjusted.
Otherwise, the mod has the usual standard functions.
More is in planning .....
Have fun with it!
Kind regards
Credits
Giants, Jekyll
Sound Files: DuDe1
changes
29 Dec 01:33

Version 1.2.0.0

Changelog V1.2.0.0
weiteren Satz neue Felgen verbaut (für Michelin, Mitas)
Terrabereifung hinzugefügt (Michelin, Mitas)
Luftfilterpilz (rechts neben der Haube) verbaut und per Config wählbar
zwei fehlende Motoren Versionen hinzugefügt (7840 – 100PS, 8240 – 110PS)
somit sind alle 6 Motoren Versionen verfügbar mit entsprechenden Logos
Kennzeichen verbaut
Seat Cam (Sitz Camara) verbaut
usw.

09 Dec 19:26

Version 1.1.0.0

Michelin, Mitas Reifen hinzugefügt ( beide Versionen als Breitreifen)
neue Felgen verbaut (für Michelin, Mitas)
Instrumentenbeleuchtung verbaut
Displaybeleuchtung verbaut
Konsolenbeleuchtung verbaut (interiorScreenLight)
Abgasqualm geändert
neue Sounds verbaut
neuer Start Sound
neuer Standgas Sound (leicht unterschiedlich für innen u. außen)
neue Sounds für niedrige und hohe Drehzahlen (leicht unterschiedliche für innen u. außen)
neuer Getriebe Sound
Sounds für Bremse lauter und etwas angepasst
Fahrwerkseigenschaften weiter angepasst

02 Dec 16:34

Version 1.0.0.0
Files

Do you think this mod should be featured?
}