Fortuna K180
V 1.4 mod for Farming Simulator 2013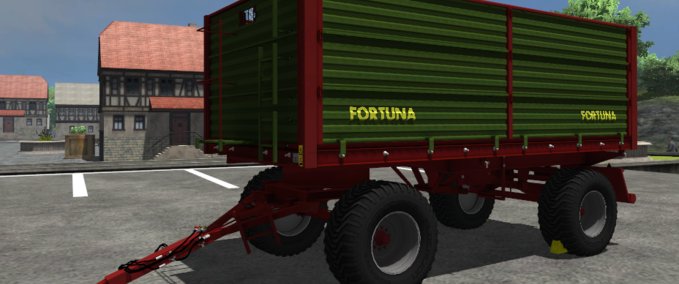 description
featured
Moin,

we have once again what little tinkering :)

The Fortuna K180 is a 3 - way tipper with 18 tons and the largest of the K- series.

The trailer is washable, Bel v3.1 and tire dust has built .
About the numpad 5 key is used to display a tarpaulin .

We recommend ToggleTipSide Mod to the tilt direction to choose yourself ;)

The following fruits can be loaded:
- Wheat
- Barley
- rape
- Corn
- Apples
- Chaff
- Concentrate
- Straw
- Grass
- Potatoes
- Sugar beet
- silage
- Green wheat
- Carrots
- Onions
- Spelt
- Oats
- Rye
- millet
- Sunflower seeds
- Tomatoes
- Cucumbers.

Load capacity : 18,000 liters
Price: € 16900 LS-

We have also created a first version of MR .
Since in the region lack the experience to us , it may be that the values do not match 100 %.
Helpful Tips in our FORUM are welcome.

The team wishes you lots of fun with the trailer ;)

IT IS NOT ALLOWED TO MOD MODIFICATION OR NATIVE NEW UPLOAD !
WE MAKE NO RELEASES MORE FOR OUR MODS !

Support only on our Forum !
Credits
Model: [FSM]Atabogo
AO-Texturen / InGaming: [FSM]Chefkoch
Texturüberarbeitungen: [FSM]Jabba42
Räder: agrotron 155
Scripts: Sven777b, Manuel Leithner, M B
changes
20 Jun 22:25

Version 1.4

Neue Frucht: Hackschnitzel inkl. Partikel verbaut für Forstmod

20 Jun 22:24

Version 1.4

Neue Frucht: Hackschnitzel inkl. Partikel verbaut für Forstmod

10 Mar 17:19

Version 1.3

- Plane jetzt über Bel v3.1 einblendbar. LogFehler bei einigen Leuten sind damit Geschichte ;)
- "Flickern" bei einigen Fruchttexturen entfernt
- unnötige Scripte entfernt

13 Feb 21:40

Version 1.2a

Kalk inkl. Abkipppartikel eingebaut | kleinere Anpassungen

09 Feb 18:14

Version 1.2

Silagetextur geändert | Mist, Saatgut und Kunstdünger verbaut (Inkl. Abkipppartikel!) | Das Heben des Hecks beim Bremsen gefixt | Fahrverhalten bei der MR Version überarbeitet.

31 Jan 22:46

Version 1.1

ChangeLog:

- Gewicht des hinteren Chassies erhöht.
- Apfel Partikel erstellt und verbaut.
- (MR) Mod jetzt kaufbar ;)
- (MR) Werte überarbeitet, Danke an Lindemann :)

31 Jan 11:29

Version 1.0
Files
checksum:
57ee8825d5f00d976c8b8f6afc67e7f9
Version:
1.4
multiplayer ready?
yes
Author:
[FSM]Team
price in shop:
16900 LS
name in shop:
Fortuna K 180
description in shop:
3-Seiten Kipper.
Fruechte: Weizen, Gerste, Raps, Mais, Apfel, Chaff, Kraftfutter, Stroh, Gras, Kartoffeln, Zuckerrueben, Silage,
Gruenweizen, Karotten, Zwiebeln, Dinkel, Hafer, Roggen, Hirse, Sonnenblumenkerne, Tomaten, Mist, Saatgut, Kunstduenger, Kalk, Hackschnitzel und Gurken.

Do you think this mod should be featured?
Unterstütze den Entwickler!
Jetzt mit PayPal spenden
}