FS Mod Manager 5
V 5.0.1.101 mod for Farming Simulator 17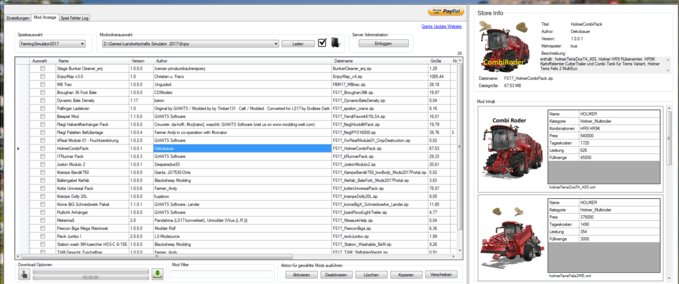 description
featured
Current Supported Games and Languages:
completely revised design
Supported Games

Farming Simulator 2015
Farming Simulator 2017
Farming Simulator 2019 (server Sync does not Work becaus i have no Server to test it)
Multilanguage

German
English
French
Russian
Polish
Spanish
Hello once,
this Mod Manager Syncs the server mods with the local Modordnern.
Also the Mods are treated in detail in detail and read and displayed the error log file for the selected game.
At game itself is only the entry of the respective "gamesettings.xml" file in the "My Documents \ My Games" folder changed.
On the Start menu, he can be found in the entry "Thomas Müller".
Credits
Modell: 
Textur: 
Script:
Idee / Konzept: 
Tester:
Sonstige: 
changes
10 Dec 20:49

Version 5.0.1.101

Einbindung vom Farming Simulator 2019 (Server Sync wird nicht Unterstützt, habe keinen Server zum Testen)
Files
Do you think this mod should be featured?
}