Valley Crest Farm 4x
V 1.7.9 mod for Farming Simulator 17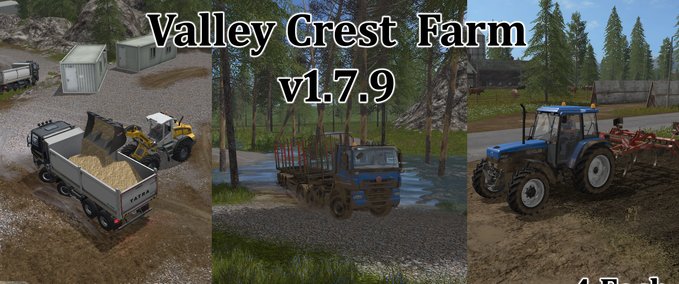 description
featured
Welcome to Valley Crest Farm 4-fold
Standard Map with additional modifications ...
• 2 Feurewehr
•Shop
•Racetrack
• 2 airport
• 2 sawmills
• Garages with workshop
• gravel rock dirt cracked asphalt cement concrete sand .....
• 2 quarry
• Biogas
as well as new road course also new Zugstrecken are contained.
etc
Have fun with this map !! :-)
Credits
Modell: 
Textur: 
Script:
Idee / Konzept: 
Tester:
Sonstige: 
changes
18 Nov 18:37

Version 1.7.9

V. 1.7.9 – changelog

Zaun bei der Gärtnerei erneuert – hatte fehlerhafte Collision
Gras entfernt bei Sportplatz im Westen.

16 Nov 17:35

Version 1.7.8

V. 1.7.8 – changelog
Flüssigdüngertank – input capazität reduziert
Bäckerei und Windmühle - Rohstoff capazität erhöt
Bei der Molkerei, Bäckerei und Windmühle – das Volimen
der Paletten auf 4000 reduziert
mehl brot butter kefir c milch yoghurt
(Betreffende Paletten vor Update verkaufen – sonst Wertverlust)

Leerpalette mit Spanngurt im Shop erhältlich – eigene Ruprik
Knochenmehl Textur erneuert
GMKFC Gülle, Mist Kalk Mod verbaut

11 Nov 18:55

Version 1.7.7

V1.7.7 – changelog

Verkauf zu Flughafen und Walmart hinzugefügt
Neue Palettensammler - Brot, Mehl und Molkerei
Neue Knochenmehl Textur
Reduziert

02 Nov 17:27

Version 1.7.6

V. 1.7.6 – changelog
Sojamilch Prod. und Weberei eingestellt
Stoffrollenpaletten in PDA Verkauf eingefügt
Stoffrollenpaletten Volumen verringert auf 2000
Hoftankstelle – Füllanschluss einhebaut – Tankgeschwindigjeit erhöht
Sojamilch Prod. – Schweinefutter Ablassgeschw. erhöht – Ftuitbilder farbig gemacht
Dünger, Saatgut, Flüssigdünger, Kraftfutter und Schweinefutter in PDA Verkauf eingefügt
Krankenhaus – Baum in der Luft gefixt – Einfahrt eingerichtet
Biogasprod. – input nur Silage – Schild angebracht
Composter – Schild gross Anliefereung hinzugefügt
Zuckerfabrik – Entnahmeschild für Bagasse korrigiert
Zuckerfabrik – Schilder Collision hinzugefügt
Bahnhof Lagersilos etwas erhöht

Tankstelle verbaut – im Süden
Tankstelle verbaut – beim Kohlewerk
Waschstrasse verbaut – bei Tankstelle im Westen
Kuhstall vergrössert
PDA Map – Strassen deutlicher hervorgehoben
Hof Werkstatt – Bilder hinzugefügt
1 Produktionen NEU – Flüssigdünger

27 Oct 13:48

Version 1.7.5

V. 1.7.5 – changelog
Von dani
saatgut düngerproduktion - schneller laden - gefixt
gebäude uner Polizei gelöscht - gefixt
schilder – gefixt
fehlende collission
Produktionen übersetzt, richtig umbenannt und die Reihenfolge sortiert
(Rohstoffe der betreffenden Produktionen werden dadurch auf 0 zurückgesetzt)
Die Palettenanzeigen sind beim ersten spielstart auch auf 0, auch wenn paletten drauf sind – einfach speichern und neu starten dann sind sie wieder angepasst.
Bild bei Hofwerkstatt hinzugefügt

Von dammemax
error in der log – Polizei - gefixt
2 Produktionen NEU – Weberei und Sojamilchproduktion
Fischerei – 2 Bilder ersetzt – Weizen- Gerste Tank
Karton und Leerpaletten zum Verkauf hinzugefügt
Datengrösse der Map reduziert
Krankenhaus verbaut

15 Oct 16:31

Version 1.7.4

V. 1.7.4 – changelog

Bäume in der Luft – nahe Hof und Fischerei
Sound eingestellt – Betonwerk, Fleischerei, Eierprod.
Gasthaus – bearbeitet – Collission – Einfahrt Verkauf
PDA Verkaufspreise – Gärreste und egg hinzugefügt
Eierpaletten und Eierschachtel können jetzt verkauft werden
Osternei – Müll verschoben
Zementproduktion – etwas vergrössert
Zementlager – Durchfahrt erhöht
Hof Silo – Häckselgut eingefügt
Schlachterei eingestellt – 1 Vieh für ca. 4 Paletten Fleisch
Fischzucht – Palettenspawner verschoben – Paletten leer machen bevor neue map installiert wird
Schlachterei – input trigger – optik angepasst
Gebäude unter der Oberfläche gelöscht – Metzgerei, Molkerei osw.
Schilder übersetzt – grössere Schrift
Diesel zu PDA Preise hinzugefügt
Diesel Verkauf zu Tankstelle im Westen hinzugefügt + Schild
Polizei

04 Oct 15:59

Version 1.7.3

V. 1.7.3 - changelog

Pflügen Bug - gefixt

02 Oct 19:19

Version 1.7.2

V1.7.2 – changelog

Feineinstellung der Produktionen
Composter und Biodieselprod. aingestellt

LiveTicker Namen angepasst

Noch einige fehlende Collision hinzugefügt
Stillgelegte Weinproduktiion abgerissen
2 Strommasten entfernt

PDA Bild erweitert – Produktions Symbole

Johannesbeerpaletten Volumen auf 4000 zurückgesetzt

24 Sep 18:43

Version 1.7.1

Bei der Beschreibung würde ich noch den Link für den Hüjnertransporter einfügen
https://ls-portal.eu/de/livestock-trailer-pack-chicken-edition/

V1.7.1 (savegamelompatibel zu 1.7)
Änderungen/changelog

Alle produktionen angepasst – treibstoff und wasserverbrauch gesenkt (sonst ist man ja nur beim nachliefer) – produktionszeiten – schlachthof tierverbrauch war extrem hoch

Falsch platzierte sounds richtiggestellt – molkerei, golnuggetmaschine und kalkerzmaschiene

Volumen von paletten mit einzelausgabe erhöht – die einfachste lösung die mir eingefallen ist

Weisse bretterpaletten werden auch bei palettenproduktion angenommen

Fehlende collisionen eingefügt – Flughafen, Kieswerk usw.

Einige texturfehler – baum in der luft – objekt in der luft – auto im zaun (unter der schlachterei)

Mineralienhaufen angepasst – wenn man 50000 abgebaut hatte musste man etwas warten

Neue gras Textur – beim mähen ist jetzt besser zu sehen was schon gemäht wurde

Biodiesel Raffinerie – Sonnenblume hinzugefügt – Bilder farbig gemacht

Eierproduktion – Hühner auf 24 reduziert (kein verbrauch bei hühnern)

Osternei – Betriebssound (Neu) leiser gemacht

kleines Hoflager - Mischfutter und Schweinefutter hinzugefügt

Windmühle – Trigger nach vorne gesetzt – falls noch eine pallette darauf war ist sie noch auf dem alten standort – einfach runter nehmen und zur Bäckerei bringen dann läufts wieder normal weiter

Sonstige Kleinigkeiten

Verbesserungsvorschläge werden gerne angenommen

03 Sep 15:51

Version 1.7

-Entfernen Winzer
-Neu Hof verändert und (entfernen)
-Fix Palette Textur
-Fix Palettensammler (Tischlerei)
-Felder (Stroh)
-Keine mods von (FS17 4fach Addon und Valley Crest Farm 2.7)

30 Aug 17:19

Version 1.6

neu Valley Crest Farm 4fach für 1,44gb und FS17 4fach Addons 907mb zusammen!!!!!!
-Fix Schaf

28 Aug 18:23

Version 1.5

-Fix Season
-Fix Hof Lager Silo
-Fix Strohhäcksler (Chopped Straw)

19 Aug 22:00

Version 1.4

-neu superbock

16 Aug 20:20

Version 1.3

-Fix Holzkohlewerk
-Fix Performance (Lag)
-Paket etwas reduziert

15 Aug 20:07

Version 1.2

-neu Villa Baustelle
-neu Wegweiser und Verkehrszeichen
-neu Leitplanken
-neu kohl
-neu Holzkohlewerk
-Mcdonalds

01 Aug 18:09

Version 1.1

-Fix Keine mods von Valley Crest Farm 2.7
-Fix Textur
-Fix tipColInfoLayer

28 Jul 18:11

Version 1.0
Files
Do you think this mod should be featured?
}