FS19_Bredal_K_VSB
V 1.0.3 mod for Farming Simulator 19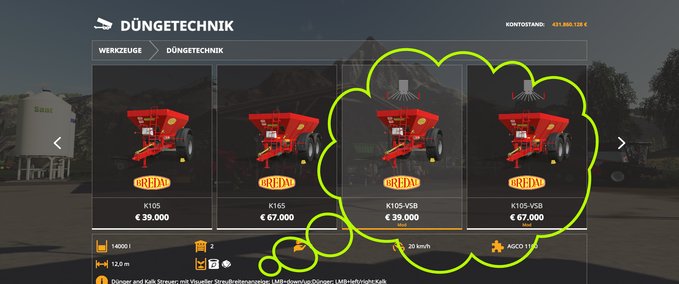 description
featured
in the pack are the Bredal K105 and K165 fertilizer u. Lime,
with visual spreading width marking
Fertilizer: Left mouse button & up / down - yellow markers
Lime: Left mouse button & left / right - red markers
(changes commented on in the xml)
Lime consumption halved (in the xml)
Of course you can also install or add to your mods, but please mention them in the credits
lg
andreas
Credits
Modell: giants
Textur: giants
Script: giants
Idee / Konzept: anthu
Tester: anthu
Sonstige: anthu
changes
01 May 17:32

Version 1.0.3

änderungen:
1.

(lt. Beitrag user wipp)
2.
K165-VSB nun richtig bezeichnet
(lt. Beitrag user Mickey07de)
3.
der Kalk bzw Dünger wird nun etwas weiter nach hinten geworfen,
lg
andreas

28 Jan 18:04

Version 1.0.2

v1.0.2:
eine "plane" in der K105.i3d entfernt, die ich als referenz verwendet hatte und eine warning in der log erzeugte.
(I3D file offers '2' objects, but '1' components have been loaded!)
lg

27 Jan 16:37

Version 1.0.1

v1.0.1 ist multiplayerfähig

fehlte in der moddesc
sorry

27 Jan 12:45

Version 1.0.0

Do you think this mod should be featured?
}