Never_Land
V 2.8 Season Ready mod for Farming Simulator 19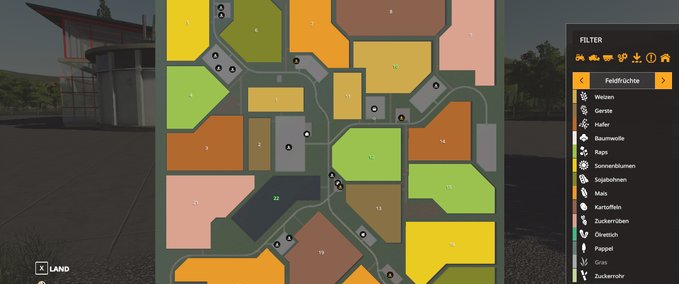 description
I am pleased to introduce you to my map.
It was rebuilt from scratch and is fictitious.
The map has 3 woods 6 open spaces (purchasable) 19 fields (purchasable)
Spinning dairy biomass and bga have also found their place
There are 3 outlets (take all fans)
Wind turbines from kastor were installed (thanks for that)
Carrots and onions from gmcw were installed (thanks for that)
ModPack with MultiFruit Harvester and MultiSilo Located at https://workupload.com/file/gxE63FkV
I hope I make one or the other a joy with it and wishes a lot of fun while farming
MFG Oli5464
Credits
Modell: Oli5464
Textur: Oli5464
Script: Farmer_Schubi
Idee / Konzept: Oli5464/Paul
Tester: Oli5464/Paul
Sonstige: Oli5464/Paul/Farmer_Schubi/mauricespencer
changes
31 Jul 22:59

Version 2.8 Season Ready

Season Ready gemacht
Diverse kleine Änderunngen und Anpassungen

09 Jun 22:03

Version 2.7

ALLE ANGEBLICH GEKLAUTEN HERSTELLUNGEN WURDEN ENTFERNT
DANKE NOCHMAL AN ONKELYOGI UND ONKELBOB2710 DAFÜR
BEDANKEN KÖNNT IHR EUCH GERNE HIER BEI DEN BEIDEN https://discord.gg/5tUqKkr

08 Jun 22:26

Version 2.7

LS17 Bäume Entfernt
LS19 Bäume Neu Gesetzt
Pelletsherstellung Verbaut ( Eigenbau )
Pellets in Landhandel und Preißliste Eingetragen
Pellets hud Erstellt
Biogasherstellung Verändert
Mehlherstellung Verändert
Mais in Mehlherstellung Eingetragen
Kalk Preiß Angepasst
Saatgut Verbrauch aller Früchte Angepasst
Gewicht aller Güter Angepasst

05 Jun 19:54

Version 2.6

Hopfen Tabak Karotten und Zwiebel als Neue Frucht
Hopfen Tabak Karotten und Zwiebel hud Neugemacht
Hopfen Tabak Karotten und Zwiebel in Landhandel Ledli Lagersilo Landhandel und Preißliste Eingefügt
Bierherstellung Hopfen Eingetragen
Bierherstellung Weizen Entfernt
Bier Preiß Erhöht
Gewürzherstellung Verbaut ( Eigenbau )
Gewürz hud Erstellt
Gewürz in Preißliste und Ledli Eingetragen
Raffinerie Geändert braucht nun Raps und Sonnenblumen zur Herstellung von Diesel
Diesel aus Tankstelle Entfernt
Ölgewinnung Anzeigen Angepasst
Öl und Biogas aus Flüssigtank Entfernt
Mehlherstellung Gerste und Mais Entfernt

04 Jun 07:35

Version 2.5

Zucker Bier und Sojamilchherstellung Verbaut ( Eigenbau )
Zucker Bier und Sojamilch in Preißliste und Ledli Eingefügt
Zucker Bier und Sojamilch hud Erstellt
Mehlherstellung an eine andere stelle Verschoben
Wasserwerk in Wasserstelle umgeschrieben und zur Tanke Gesetzt
Alle Herstellungen lagermenge auf 500.000 Gesenkt
Ölgewinnung von Raffinerie getrennt
Diesel Preiß Gesenkt
Speicher in Landhandel umgeschrieben und Gebäude getauscht
Hackschnitzel aus Verkauf Entfernt
Raiffeisen Verkauf Entfernt

02 Jun 18:30

Version 2.4

Biogas Herstellung Verbaut ( Eigenbau )
Biogas hud Erstellt
Biogas in Tankstelle Preißliste KotteTSA und Flüssigtank Eingetragen
Mehlherstellung Verbaut ( Eigenbau )
Mehl hud Erstellt
Mehl kann beim Ledli Verkauft werden
Mehl in Kottetankfass Eingetragen
Eigenes Kottetankfass als Mod in die Map Eingefügt
Kottetankfass findet man im Shop unter Diverses ( kann Öl Biogas und Mehl laden )
Saatgut Dünger unf Flüssigdünger Herstellungen von Farmer_Schubi wieder als Mod Hinzugefügt
Herstellungen und Preißliste Angepasst
Baumsetzlings Palette als Mod Hinzugefügt ( 100 Stück )
Zweites Farmhaus Eingefügt
Diverse Büsche und Bäume Verschoben ( zurück auf den boden geholt )
Scheune Entfernt
BGA Entfernt

31 May 22:22

Version 2.3

Bitte vor dem Versions wechsel alle Platzierbaren sachen Verkaufen und dan die itemsxml aus einen Neuen Spielstand nehmen
Die Map hat jetzt nochmal fast 30 MB weniger
Diverse Freie Flächen Entfernt
Depot Verkauf Entfernt
Sägewerk Entfernt
Milchhaus Entfernt
Dieselverkauf in Tankstellen um Geschrieben
Dieselherstellung in Raffinerie um Geschrieben und sie stellt jetzt auch Öl her
Öl in Tankstelle und Preißliste Eingetragen
Milch und Öl in Flüssiglager Eingetragen
Kleines WasserWerk Verbaut
Beim WasserWerk kosten 100.000 liter Wasser 10.000 euro oder dollar
Flüssigkeiten Anhänger liegt bei
Kalk in beide Verkäufe Eingetragen
Strommasten Verbaut
Umwelt Sounds Eingefügt

28 May 23:14

Version 2.2

FillTypeMover.lua Update von Farmer_Schubi bekommen und Verbaut
Verkehr Verbaut
Bga Fahrsilo Umgebaut (bitte tipColMap.grle aus einen neuen savegame in euers einfügen)
Lampen bei der Bga Gesetzt
Lampen bei beiden Statuen Gesetzt
Hecken bei der Kirche Gesetzt
Deko Jung Bäume Verbaut
Deko Büsche Verbaut
Flüssigdünger Herstellung Entfernt
Biomasse Verkauf Entfernt
Lagerhaus Verkauf Entfernt
Liquid Verkauf Enfernt
Files
Do you think this mod should be featured?
}