Tervalehti_Multifruit
V 1.0.1.3 mod for Farming Simulator 19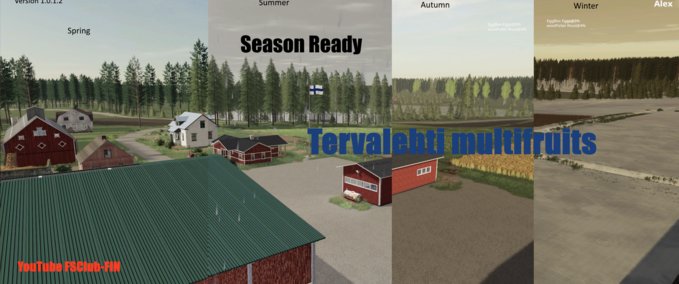 description
Hello That is new version this map.
25 fruits
82 fields and large forest area
Fixed all triggers
fixed textures
and many other problems fixed.
some problems could not be fixed yet. for example, the map does not work on the server yet. Because some of the triggers remain uncharged. the internal multiplayer works yes.
fixed all Animalhusbandry. It work all
Have a fun.
Credits
Model: FSClub-FIN ModdingTeam
Texture: FSClub-FIN ModdingTeam
Script: FSClub-FIN ModdingTeam
Idea / Concept: FSClub-FIN ModdingTeam
Testing: FSClub-FIN ModdingTeam
Other: FSClub-FIN ModdingTeam
changes
28 Jul 20:16

Version 1.0.1.3

Fixed wood textures.
Added ice texture to winter waters. lakes, dike, river, big lake.

27 Jul 18:41

Version 1.0.1.2

Add Season and fixed some errors.

01 Jun 19:20

Version 1.0.0.2

Repair Update.
Materialholder fixed
Added silt fertilizer for production.
and some other minor fixes.

28 May 13:42

Version 1.0.0.2

All the texture changed, the whole map was made into a new base. Tobacco added to plants. Added manufacturing machinery for fertilizer, liquid fertilizer, TMR and pig feed mixers, silage manufacturing station. Change Sales Point Added. Mini map fixed. map Collision fixed, density fixed. You may need a new one savegame.

I hope you like. have a fun

11 May 21:57

Version 1.0.1
Empfehlungsrate
-/-
noch nicht genug Stimmen
Do you think this mod should be featured?
Unterstütze den Entwickler!
Jetzt mit PayPal spenden
}