Gazon Next Pack
V 3.2 mod for Farming Simulator 17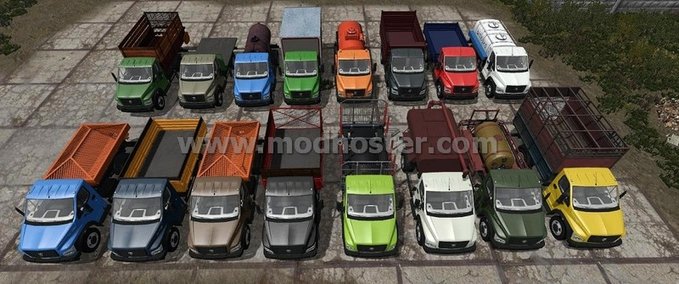 description
Dump truck on the basis of GAZON NEXT is used for transportation and unloading of bulk cargo, building materials and agricultural products. Operated on roads with hard and subsoil.

Power - 149-153. Max. Speed - 95. The price is 29 250-30 030 (per day 120). Molokovoz and a barrel to transport fuel is bought in a different section. Everything gets dirty and washed. Assembly, mirrors, color selection, animation.
Credits
Eraevgenij, dimaks, artemich
changes
18 Aug 18:13

Version 3.2

Added: spreader of mineral fertilizers, spreader of solid manure. In the box of the van a small tuning: when buying it is suggested to choose with or without inscriptions, also a choice of colors. The weight of the modules is reduced, for a smaller skid. The file size is reduced.

P.S. Delete the old file, re-enable it again in the mods.

11 Aug 18:14

Version 3.1

Corrected schemes for locating t / s in the lower right-hand way (the trailer does not stand in front of the truck), the 3d inscription was removed from the fuel barrel, the choice of pallets with boards was removed, because the bodies were not intended for transportation, the autoloading was removed from the platform for the forest, On all trailers added trailer, in case of a jam, so you can pull out, on the back of the chassis light returned to its place, the modules "see" now only their attaches.

10 Aug 01:59

Version 3.0 Fix

Fix for mod Gazel Next

08 Aug 17:41

Version 3.0

Added 5 modules: a body for grain, a body for silage, cuttings, straw, hay; Sprayer, platform for bale selection, trailer for modules, seeder seeder. For convenience, the pack in the store is a separate category.

06 Aug 19:32

Version 2.0

Added 2 trailers for bulk goods, with a load capacity of 4,500 and 5,000 liters, a barrel was added to transport water and milk, lighting devices with the corresponding duplicating indicators were added, the Lawn with a barrel was slightly adjusted, and there were holes at the bottom of the barrel.

30 Jul 20:18

Version 1.1
Empfehlungsrate
-/-
noch nicht genug Stimmen
Do you think this mod should be featured?
}