Weights package
V 0.5 mod for Farming Simulator 19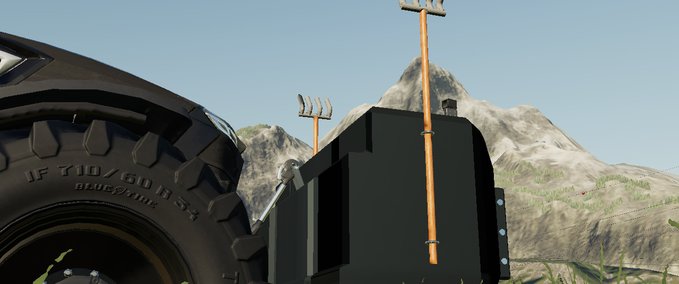 description
Weight Pack
Today we provide you with our weight pack.
It includes a 750kg, 2500kg, 3000kg and a 4000kg weight.
To make sure you're armed for all the heavy lifting.
All weights are freely created and do not follow a REAL model.
Weight 750kg
The 750kg weight is perfect for weak and old tractors. It only attaches to the lower links to save space. It is cheap to buy so as not to complicate your launch.
.
Cost:500Euro
Daily cost:50Euro.
Weight 2500kg
The 2500kg is PERFECT for medium sized farms. Your tractors won't take off anymore. It can also pull a trailer
.
Cost: 2600€
Daily cost:300€
Weight: 3000kg
The weight is suitable for medium and large operations.
Because of the short length of the weight, it is optimal even for narrow yards.
Cost: 4500€
Daily cost: 600€
Weight: 4000kg
The weight is only suitable for large tractors. Small and medium tractors will not be able to lift it. Besides, the weight can pull trailers.
.
Cost:5500
Daily cost:600€
Buffer:
The buffer is perfect for all tractors. It allows you to see the width of the tractor in front of you, so you won't damage your tractor gates during tight maneuvering.
.
General: If you have any other ideas for more weights, feel free to drop us a line. Also if you have ideas for these weights feel free to write us. At: SK-Gaming@gmx.net we are always available. We also offer support there.
Moddingteam: We are a freshly founded gaming team which also does modding. You are welcome to join us. Again, just message us here or at SK-Gaming@gmx.net.
Rights: The rights of the mod belong to the creator of the mod! Please respect our work and upload the mod only with original link again. But you are welcome to offer it everywhere with the original link!
We hope you enjoy the mod now!
SK Modding
Credits
Modell: SK-Gaming
Textur: Sk-Gaming
Script: SK-Gaming
Idee / Konzept: SK-Gaming
Tester: SK-Gaming
Sonstige: SK-Gaming
Empfehlungsrate
-/-
noch nicht genug Stimmen
Do you think this mod should be featured?
}