Glen Ellie Map
V 1 mod for Farming Simulator 15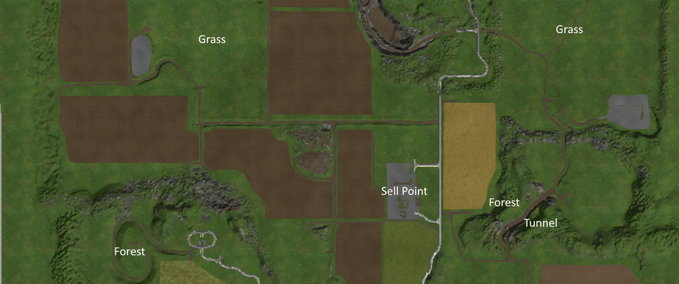 description
An interesting Silage and large field orientated map for those who love carting and making silage. Consists of 19 fields some of which are big, some are small. As with all my maps, you will not see many flat areas. This map has been specially made and must NOT under any circumstances be copied to, uploded to, or released to any upload site without the express permission of Farmer Yip. Glen Ellie was made with the help of and under instruction of all my followers on my Twitch Channel. A perfect way to learn how to make maps right from the very start. Join my Twitch channel..http://www.twitch.tv/farmeryip.
This map is being released with permission from FarmerYip.  I asked for permission to release it as it's a beautiful map, and didn't appear to be available anywhere on the internet.
NOTE:  The compost mod is embedded in the map.  Some specialized mods may be necessary to use it.  A suggested pack of mods to use with this map can be downloaded here:  Glen Ellie Suggested Mods
Credits
FarmerYip
See also credits.txt file included in mod zip file
images

Empfehlungsrate
-/-
noch nicht genug Stimmen
Do you think this mod should be featured?
}