Goldcrest Mountains
V 4.0.0.1 DL Fix mod for Farming Simulator 17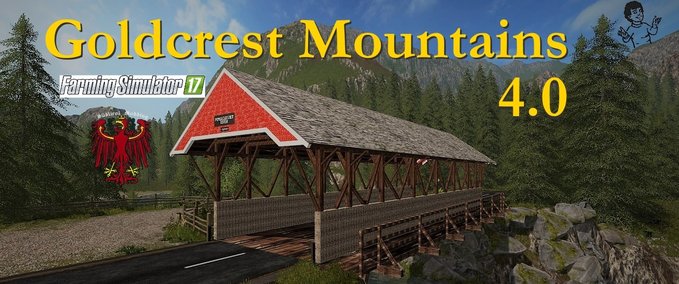 description
featured
These are the Goldcrest Mountains. A remote side valley near the Valleys.
Completely new building with standard features and buildings in the mountains.
Please look at pictures and read carefully whether the map suits you!
____________________________________________________
Mapcharakteristik
Map Size: small
Players: Single Player
Match shapes: animals & Forestry (no Agrarmap!)
Game Machine: Medium Tractors & small equipment
Topography: hilly to very steep terrain
Map Content: all standard functions
Play distances on the standard map is too large, preference for smaller equipment, LS17 in mountainous atmosphere: Motivation
This is version 1.0 .. Other versions may follow.
PDA map will be submitted (not a satisfactory result by height differences)
Have fun, Seba_S_Tian
Credits
Modell: Seba_S_Tian, Giants
Textur: 
Script:
Idee / Konzept: Seba_S_Tian
Tester:
Sonstige: 
OldShed - BlackSheep
LightPackAddOn - Niggels
placeable Storagepackage - Fendtfan1
Feldscheune - Katsuo
Tankstelle - t0xic0m
Chopped Straw - webalizer
 Sojaproduktion: 
slowtide63: Idee, Konzept, 3D-Modell
Marhu: FabrikScript.lua (LS15)
KevinK98: Konvertierung LS17 FabrikScript.lua und AdditionalTriggers.lua
 Sägewerk:
Credit: kevink98 (Script), Marhu (Script LS15), fasi (Palette) Giants (Gebäude LS15)
fermenter 5000 - gtx mods
placeable Old Shed2 - Blacksheep Modding
Schrankensset - Desperados93
machinery Shelter - fqc Art
woodshed - Niggels
Kastor Food Inc. - Kastor,Joker301069,Weisser,Da-Hoffi,Vanquish081,El_Cid,Ifkonator,BlackSheep(RC-Devil),Marhu,Kevink98,Giants
changes
17 May 19:50

Version 4.0.0.1 DL Fix

geänderter DL

16 May 22:04

Version 4.0

siehe Beschreibung

19 Jan 06:43

Version 3.0

siehe Beschreibung

16 Nov 12:30

Version 2.5

Änderungen 2.5

- Abkippplätze bei Silo's und Unterständen überarbeitet
- Chopped Straw (Strohverteilung auf Feld mit Düngefunktion) eingefügt
- versteckte Wasserstelle bei Kuhstall hinzugefügt
- versteckte Passstraße zwischen Schafen und Kühen hinzugefügt
- einzigartigen Kuhstall mit Abkippplatz innen hinzugefügt
- Sounds hinzugefügt
- Karte verschönert, angepasst
- Fehlerbeseitigung

09 Nov 14:44

Version 2.0

siehe Beschreibung

01 Nov 10:11

Version 1.0.1 Bodenfix

BGA Fix
Mähfix
Grubberfix
Pflugfix
Feldmissionen
leichte optische Anpassungen im oberen Bereich
Vorabversion PDA (zur Veranschaulichung der Verzerrungsproblematik)

30 Oct 18:29

Version 1.0

Do you think this mod should be featured?
}