Grimme MultiTrailer 190
V 1.0 MR mod for Farming Simulator 2013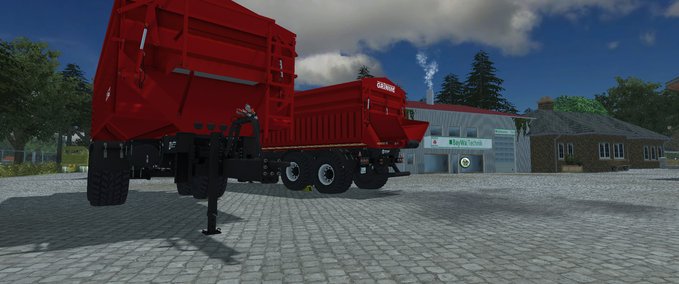 description
featured
Grimme Multitrailer
Soo Leute heute ist es soweit hiermit stelle ich euch passend zur Kartoffelreinigung den Grimme
Multitrailer zum Dl 

Der Multitrailer ist aufgrund seines geringen Einsatzgewichtes optimal zum Abfahren von schwereren
Agrargütern wie Kartoffeln oder Rüben geeignet, desweiteren verfügt der Multitrailer über Seitenklappen
die zur Reduzierung der Fallhöhe des Erntetgutes dienen um z.B. Druckstellen an Kartoffeln zu vermeiden
die Klappen schließen sich automatisch bei einem Füllvolumen von 8000l. Der Multirailer hat eine
Kapazität
von 25 to und ist mit einer Nachlauflenkung ausgestattet, auch in Gebäuden mit einer geringen Dachhöhe
findet der Multitrailer seine Einsätze da es durch die Bandentleerung kaum höhen Begrenzungen gibt im
vergleich zu Kippern.

Der Multitrailer wurde mit Shader Tipping ausgerüstet um ein ziemlich reales Befüllen und entleeren zu
ermöglichen. 
ohne ShaderTipping Funktioniert der Anhänger nicht korrekt!!!!!
Shader Tipping DL Link
Download ShaderTipping
 bitte mit Rechte Maustaste link Speichern unter oder Alternativ beim Fortuna
im ModHub gucken
Ich möchte mich noch bei meinem Team *Underground Modding * und bei dem Gamin
un Team
sowie bei meinem Scripter Upsidedown bedanken für diverse Tipps beim Bau sowie diverse Streams
und Videos Ihr seid echt Spitze Jungs und freue mich auf eine weitere gute Zusammenarbeit für LS 15
mit einer so einer geballten Teamarbeit wir man sicherlich noch einiges Bewerkstelligen können und
nun genug mit dem gesabbel. *ach bevor ich das vergesse der BlueIce hat mir noch ein nettes
vorstellungsvideo gemacht lieben dank 

Mfg BlueSky 

Es ist untersagt, dieses Werk in gleicher, ähnlicher oder veränderter Form, ohne Einwilligung des
Urhebers (BlueSky),
erneut zu veröffentlichen.





FORBIDDEN TO MAKE UPLOAD ON OTHER SERVER, IF NOT OBSERVED THE CONDITIONS OF LICENSE. 

And 'FORBIDDEN TO DISTRIBUTE THE MOD SO DIFFERENT FROM THE ORIGINAL
Credits
BlueSky
Lindemann
Upsidedown
changes
22 Oct 21:24

Version 1.0 MR

MR Version hinzugefügt

22 Oct 21:12

Version 1.0
Files
checksum:
d8a9cb3a3f9d134003e81bb52e0c686a
Version:
1.0 MR
multiplayer ready?
yes
Author:
BlueSky
price in shop:
75490 LS
name in shop:
MR Multitrailer 190
description in shop:
Tandem Multitrailer System-Aufbauten mit Bandentleerung für den professionellen, schonenden Transport von Kartoffeln und anderen Agrargütern
Zum Transport von Kartoffeln, Zuckerrüben, Weizen, Gerste, Raps, Körnermais

Do you think this mod should be featured?
}